Sports
Williams seems to be happy camper
Tue., July 26, 2005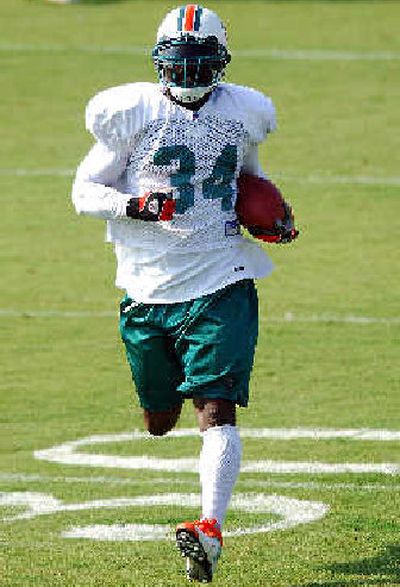 DAVIE, Fla. – Back in the Miami Dolphins' backfield Monday, Ricky Williams made all the right moves.
First, he showed up. Then he reached the end zone on his first carry, smiled at cheering fans, apologized for leaving the team in a lurch, said he was done with dope and calmly submitted to a media interrogation regarding his surreal one-year retirement.
One question – the first one – momentarily stumped him, though: Why did he return?
"Why? Why? I don't know. I don't know," he said.
Uh-oh. This roller-coaster ride still seems a little rickety.
Greeted with hugs from teammates and cheers from fans, Williams returned to the Dolphins for their opening training camp practice Monday under new coach Nick Saban. Lining up for his first play since the 2003 season, Williams took a handoff from Gus Frerotte and sprinted 20 yards to the goal line.
But there was no defense on the field, and Williams is sure to meet stiffer resistance in the weeks to come as he tries to regain favor and reclaim a starting job.
"Look, we're kind of in the risk-taking business," Saban said. "I've talked to the team about it. I think everybody is accepting of his ability and respectful of him as a competitor. I think everybody is anxious to see that he is committed and to evaluate his level of commitment."
At a team meeting Sunday after players reported for camp, Williams spoke briefly and apologized for the impact caused by his retirement a year ago last weekend. The Dolphins went into a nosedive and finished 4-12, their worst season since the 1960s.
"There were things about life that I wanted to explore outside of football, and I had never had the chance," Williams said at a news conference after practice. "I realize by making that decision, I affected the team in a negative way and upset a lot of fans.
"I'm very regretful that people were hurt in the process of me doing that. I do realize that to a lot of people it comes off as being very selfish. So I do offer an apology to all the people who were negatively impacted."
His words of contrition seemed to satisfy teammates, including center Seth McKinney, who a year ago called Williams a quitter.
"In the team meeting, he did what he had to do," McKinney said. "He's a man about it. We're all being men about it. Nobody is holding any grudges. We all want him back. He's a great player."
Locker-room teasing helped lighten the mood, players said. Defensive tackle Larry Chester noted Williams' long, scraggly beard and multidirectional hairdo.
"Guys were saying he looked like a little homeless guy," Chester said. "It was all in fun."
Williams said he found the warm reception from teammates surprising.
"It's awkward, you know?" he said. "So many things have been floating around, you just never know what to expect."
His return overshadowed Saban on the new coach's first day of camp. It was Saban who reached out to Williams in January, laying the groundwork for the running back's comeback.
When Williams returned to the field, nearly a thousand fans were on hand in humid, 85-degree sunshine.
When a pass pattern sent him sprinting toward the stands, the crowd cheered, prompting him to grin. He smiled again later when he stepped to a lectern to answer questions from a cluster of reporters, never Williams' favorite activity and something the former Texas Longhorn hadn't done in 19 months.
When the topic turned to his admitted use of marijuana, Williams said he no longer smokes it. He faces a four-game suspension at the start of the season for violating the NFL substance abuse policy.
"Being an NFL player, I had a problem with some of the rules. I wasn't very comfortable with it, and I decided to walk away from it, " Williams said. "Being away and having a chance to learn a lot about myself, I realized that freedom is having the strength to be in any situation and be content with that situation."
Defensive end Jason Taylor, critical of Williams when the drug issue surfaced last year, said he considers the matter closed.
"I don't think he needs to talk to us about it," Taylor said. "It's none of our business. He can deal with things however he wants. Just don't leave again."
After Williams vanished last July, he lived in a tent in Australia, studied holistic medicine at a California school and spent a month at a yoga center in India, becoming certified as an instructor.
Local journalism is essential.
Give directly to The Spokesman-Review's Northwest Passages community forums series -- which helps to offset the costs of several reporter and editor positions at the newspaper -- by using the easy options below. Gifts processed in this system are not tax deductible, but are predominately used to help meet the local financial requirements needed to receive national matching-grant funds.
Subscribe to the sports newsletter
Get the day's top sports headlines and breaking news delivered to your inbox by subscribing here.
---