News > Features
'Survivor' in reruns
Thu., July 28, 2005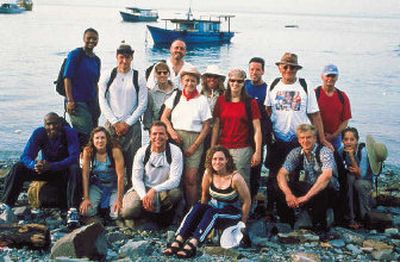 For the first time since Rudy Boesch, Susan Hawk and Richard Hatch – in all his naked glory – became household names in the summer of 2000, the premiere edition of "Survivor" is being seen again on television.
OLN began rerunning the original "Survivor" episodes this week and has acquired the rights to show all nine subsequent seasons.
And GSN has started showing repeats of "The Amazing Race" as the two small cable outlets test whether there is a business in repeating serialized reality show contests.
Gavin Harvey, OLN president, has lost track of how many fingers have been wagged at him with the admonition, "Ah, but everyone knows the ending."
"A lot of people think they're the first ones to tell me this," he said.
Still, it's the chief concern – and the reason why two-time Emmy winner "The Amazing Race" and "Survivor," the gold standard for reality shows, are making their syndication debuts on relatively little-known cable channels.
Harvey conceded there's no way OLN could have bought "Survivor" if larger networks were interested. The former Outdoor Life Network is available in 63 million homes, a little more than half the country, with Tour de France coverage making July its peak month for visibility.
He's making his new property hard to miss; each hourlong episode will be repeated 24 times over the course of a week – a full day of "Survivor."
"Yes, people know the ending," he said. "But we're confident that people who have seen it will want to see it (again). They'll want to see how Richard Hatch engineered this."
"Fear Factor" and "Real World" are among the few reality shows to be syndicated and have done moderately well, although neither involves a seasonlong competition.
OLN's bar for success may not be too high. Its average prime-time audience is only 330,000 people, and all of the "Survivor" series have averaged 20 million viewers or more on CBS. Attracting only a small percentage of these dedicated fans would significantly swell OLN's audience.
Remember, Hatch's victory in the "Survivor" finale drew an astounding 51 million viewers in August 2000.
"Is it a guaranteed bet? No," said Bill Carroll, an expert in the syndication market for Katz Television. "Is it a good, reasonable roll of the dice? Yes. I think they have a good chance of people who don't normally watch their networks checking them out, without alienating their core audience."
These shows' value will be determined with time, if they can draw solid ratings after being on the air 40 or 50 times like "I Love Lucy" or "Seinfeld," he said.
But the implications for television stretch beyond two networks and two shows.
As "Survivor" creator Mark Burnett explained, syndication money was never a part of the series' business plan, but you can bet it will be for his shows in the future if it does well on OLN. The network plans months of "Survivor" stunts, marathons of particular seasons or episodes about "greatest villains."
GSN, which is in 57 million homes, has begun airing "The Amazing Race" in prime time seven nights a week, following its top-rated show, reruns of Regis Philbin on "Who Wants to Be a Millionaire."
The former Game Show Network – which, like OLN, is trying to broaden its base of viewers – similarly took advantage of lower prices by being a reality pioneer, said Rich Cronin, the network's president.
"They're not just going back and watching people in a house," he said of the "Amazing Race" reruns. "They're going back and watching people race around the world."
The popularity of "Race" is also growing. The recently concluded seventh season was its highest-rated ever, meaning there are new fans who might want to check out previous seasons.
Meanwhile, network executives Harvey and Cronin have a real-life competition going on, based on which rerun reality show has more viewers in its first month.
Harvey will eat a cricket if he loses. Cronin countered that he'd walk to work four miles each way for a week – a sacrifice in car-obsessed Los Angeles – if GSN is outdrawn.
"Why not go out on a limb?" he said. "I believe in 'The Amazing Race.' I believe in GSN.
"It may be that out of the gate their ratings are higher, but I think over the long run 'The Amazing Race' will repeat better than 'Survivor.' "
Harvey has his limits. He'll eat a dead cricket – not a live one.
"We're going to be the ones to see if serialized reality shows can work in syndication," he said. "This isn't just any serialized reality show. I truly believe there is something special about 'Survivor.' I like our chances."
Local journalism is essential.
Give directly to The Spokesman-Review's Northwest Passages community forums series -- which helps to offset the costs of several reporter and editor positions at the newspaper -- by using the easy options below. Gifts processed in this system are not tax deductible, but are predominately used to help meet the local financial requirements needed to receive national matching-grant funds.
Subscribe now to get breaking news alerts in your email inbox
Get breaking news delivered to your inbox as it happens.
---