News > Spokane
Caution, parents at play (for the kids)
Wed., June 1, 2005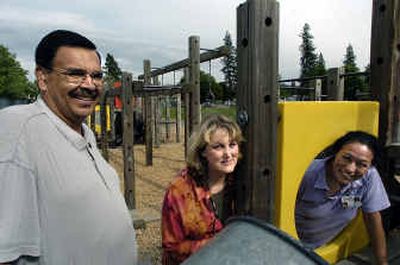 You've heard of Ham on Regal.
Now there's "Spam on Fifth" this Friday.
While it may not be quite as plush as Ferris High School's annual production, "Spam" will be a night of spaghetti, fairytale plays and an ambitious silent auction.
"Hopefully, (Ferris) is supportive and thinks it's cute," said Sheila Mulligan, a self-described PTA mom who's trying to promote the event.
In the East Central community, a scrappy bunch of PTA volunteers at Sheridan Elementary are trying to raise $58,000 to revamp their school's playground. To raise money in the past few weeks, they've pulled together a list of silent-auction items including a Davenport Hotel package for a one-night stay that includes dinner for two at Anthony's seafood restaurant and limousine service. Bids start at $150. There's also a Red Lion overnight stay and assorted smaller gifts.
Now they're concerned that too few people know about their Friday event. Torn up roads around the school also have them concerned. They hope the fliers in their neighborhood have gotten the word out.
"Largely, we don't know what we're doing," Mulligan said. "What we lack the most is public relations. We have a lot of shy volunteers."
But they're not too shy to go after what they want for their children at a school where 73 percent of students qualify for free or reduced-priced meals.
Sheridan PTA Vice President Rachel Socha first heard of playground concerns a few years ago when her son attended kindergarten there. Parts of the playground were not used due to a shortage of supervisors to watch a far-off area around a corner and near a gate. Socha said her son came home several times with slivers in his hands from the playground equipment.
This fall, she brought up the issue with Principal Don Warner.
She said Warner explained that replacing the equipment wouldn't solve the supervisory problem. That's what prompted the PTA to consider putting a new playground area closer to the asphalt courts so three supervisors could keep adequate watch on students, Socha said. Warner gave his support.
The total cost to put in a new playground was about $75,000, Socha said. They've already secured $5,000 from the South Hill Rotary and obtained labor to remove sod and prepare a new area.
In the next 15 months, Spokane Public Schools has plans to spend $250,000 to replace some of the oldest playground equipment in the district, said John Mannix, district executive director of facilities and planning.
The district recently went through an extensive evaluation of every piece of play equipment and then ranked the ones that should be replaced first, Mannix said. Sheridan's playground isn't on the list for the 15-month project.
"We are certainly going to get to them at some point," Mannix said.
It's not uncommon for parent groups to raise funds to augment a playground project.
"If they want to speed things along, we will work with them," Mannix said. "These are parents and community members trying to do wonderful things for kids."
Earlier this year, students at Sheridan were given bottles of water and then asked to return the bottle filled with pocket change, which most did, Socha said.
Now there are change-collection bottles in businesses throughout the East Central community. One PTA rummage sale on a rainy day earlier this year collected $600 for the playground. The organization has opened a Sheridan Elementary PTA playground fund at Washington Mutual banks.
They hope the auction-dinner – and play with principal Warner dressed up like the Big Bad Wolf – will help their fund-raising efforts.
Warner chuckled (no huff or puff) at the name, Spam on Fifth.
"They're a pretty creative bunch," Warner said.
Local journalism is essential.
Give directly to The Spokesman-Review's Northwest Passages community forums series -- which helps to offset the costs of several reporter and editor positions at the newspaper -- by using the easy options below. Gifts processed in this system are not tax deductible, but are predominately used to help meet the local financial requirements needed to receive national matching-grant funds.
Subscribe now to get breaking news alerts in your email inbox
Get breaking news delivered to your inbox as it happens.
---