A&E > Entertainment
ArtFest oozes hot live music
Fri., June 3, 2005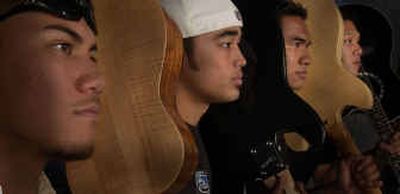 In addition to the visual stimuli on hand this weekend at ArtFest, there also is a hot lineup of live local music.
The styles range from world and jazz to rock and country.
Here's the schedule of bands appearing at ArtFest, which starts today at Coeur d'Alene Park in Browne's Addition.
Admission is free:
Friday
Noon: Monte Thompson, acoustic folk-rock
3 p.m.: Talapia, Hawaiian
4:30 p.m.: Los Vigiles, flamenco
6:30 p.m.: Milonga, salsa
Saturday
11 a.m.: Working Spliffs, reggae
12:30 p.m.: Soup, jazz fusion
2 p.m.: Logan Heftel, acoustic singer-songwriter
3:30 p.m.: Scarlet Parkway, indie-pop
5 p.m.: La Cha Cha, indie-pop
6:30 p.m.: Cristopher Lucas, singer-songwriter (see Spin Cycle on page 5)
Sunday
11 a.m. Buffalo Jones, alt-country
12:30 p.m.: Vaudeville, folk-pop
2 p.m.: DBC Band, blues-rock
3:30 p.m.: Matthew Lindley Mistake, rock
Club hoppin'
• Old-time blues-rock singer Jim Brown brings his upbeat guitar styling and raspy voice on Thursday to Far West Billiards, 1001 W. First Ave. Music starts at 8 p.m. No cover.
• The Riverside Rhythm and Bluez Review is giving a sneak preview of its new R&B and soul act, which features new vocalist Max. Check out the Maxtravaganza tonight at Bluz at the Bend, 2721 N. Market St. The Riverside Review appears minus Max on Saturday and Sunday at Bluz at the Bend. All shows are free. Showtime is 9 p.m.
• Get your groove on with jam band Mixolydian on Thursday at 8 p.m. at Moon Time, 1602 Sherman Ave. # 116 in Coeur d'Alene. There is a $2 cover.
• Still riding a hot streak ignited by a new album, jazz-hip-hoppers Locke and the Chris Wilson Five loosen ties Saturday at The Blvd., 333 W. Spokane Falls Blvd. Music starts at 9 p.m. Cover to be announced.
• With a slant toward prominent piano and percussion, Portland indie-rockers Desert City Soundtrack, along with locals Weight and The Blakes, is set to rock tonight at The B-Side, 230 W. Riverside Ave. Showtime is 9:30 p.m. There is a $5 cover.
</endnote></body>
Local journalism is essential.
Give directly to The Spokesman-Review's Northwest Passages community forums series -- which helps to offset the costs of several reporter and editor positions at the newspaper -- by using the easy options below. Gifts processed in this system are not tax deductible, but are predominately used to help meet the local financial requirements needed to receive national matching-grant funds.
Subscribe to the Spokane7 email newsletter
Get the day's top entertainment headlines delivered to your inbox every morning.
---