Sports
Birdie in the Nick of time
Fri., June 3, 2005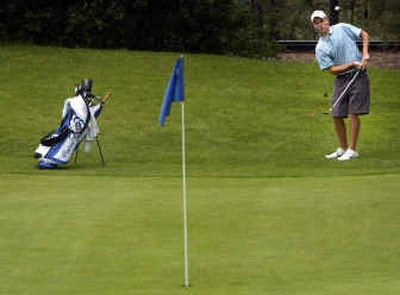 Nick Grigsby stood in the thick forest to the right of the 16th hole at Indian Canyon Golf Course, turned his club face upside down and tried a left-handed shot.
He swung and missed, leading to a double bogey.
By the time he approached his second shot on the par-5 final hole of the State 4A tournament on Thursday, the Central Valley junior's three-shot lead was gone.
So he pulled out one of the most clutch shots of his young life.
Grigsby put a 4-iron 8 feet from the hole, then two-putted to earn the state championship by one stroke over Bellarmine Prep's Kyle Stanley, Jason Moore of Rogers-Puyallup and Chris Cho of Kentridge.
"This definitely ranks up there," Grigsby said, after a two-day total of 6-under-par 138, including an even-par 72 on the second day. "I knew what I could do, and I knew what I had to do. I thought I would have to go lower today. It's definitely rewarding, all the hard work seems worth it."
Grigsby's hard work came in handy on 18 after he found out that he needed a birdie to avoid a playoff hole.
"It's a shot I'm actually really comfortable with," Grigsby said of the second shot on 18. "I kind of try and fade it in there. It was nice because I wasn't in between clubs, and I was able to be aggressive with it. Especially in a situation like that, you don't want to have to be laying off or indecisive about what's going on."
Cho, a freshman from Kentridge – whose sister, Christine, won the State 4A girls title – played in the final group with Grigsby and chased him throughout the day, finally cutting his lead to one shot after 14.
Cho double-bogeyed 15, though, the first time all day he seemed flustered. His second shot landed in the sand, and then he flew the green with his bunker shot.
"Yesterday, I did the same thing," said Cho, who qualified 13th out of the South Puget Sound district. "I was 5-under and I went down to 3-under, but I told myself, 'You've still got three last holes, you can still make it up.' When I saw Nick hit a poor shot, it kind of took my madness away."
Cho couldn't make up the last stroke after Grigsby doubled 16, but adding to the anxiety was the news from the group ahead that Moore and Stanley were 5-under as well.
Grigsby kept himself in position to win despite struggling through the middle of the course, bogeying Nos. 9 and 10 before using precise putting on 11 through 15 to save wayward drives. He got through those five holes with four pars and a nice birdie putt on 12 after his drive hit a tree left of the fairway.
"Obviously, there I made putts I really needed to, and that was great," Grigsby said.
At MeadowWood, Cho's junior sister, Christine, shot the first below-par round of the State 4A girls tournament, using a 71 to win the individual championship with an even-par 144.
Cho, who took up golf with her brother 3 1/2 years ago, birdied 10 and 13 on the back nine to pull away from defending champion Chris Yun of Bellarmine Prep and Mead's Amy Eneroth.
"I just had to make my putts, a lot of my putts," Cho said. "Lately I haven't been comfortable with my putting and then, all of a sudden a couple of days ago, I just felt comfortable."
Eneroth shot a 3-over 75 to finish in third, four shots back.
Gonzaga Prep's Annie Brophy finished fourth with a 152. University claimed the next two spots, with Haley Parsons finishing fifth at 153 and sister Mandy Parsons tying for sixth (156).
U-Hi finished second in the team scoring, with Mead third. Bellarmine Prep won both team titles with Ferris second in the boys, led by Tyler Lynn's sixth-place finish (141).
Local journalism is essential.
Give directly to The Spokesman-Review's Northwest Passages community forums series -- which helps to offset the costs of several reporter and editor positions at the newspaper -- by using the easy options below. Gifts processed in this system are not tax deductible, but are predominately used to help meet the local financial requirements needed to receive national matching-grant funds.
Subscribe to the sports newsletter
Get the day's top sports headlines and breaking news delivered to your inbox by subscribing here.
---