News > Spokane
Deaths of mother, daughter appear planned together
Fri., June 3, 2005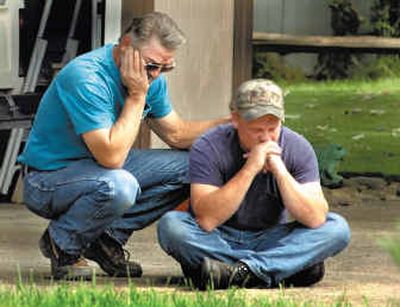 PORTLAND – A mother and daughter locked themselves inside the older woman's home and died in a murder-suicide that the two had apparently planned together, authorities said.
The bodies of 50-year-old Jeanette Marie Kimball and 29-year-old Marie Catherine Combee were found Wednesday by Kimball's husband after he came home from a fishing trip, police said.
Police are officially calling the deaths a murder-suicide. But a typed note left by Combee indicated the daughter and mother had arranged their deaths together in the home in Eagle Point, said David Strand, police chief in the southern Oregon town of about 7,400.
Strand declined to discuss the exact content of the one-page letter.
"It didn't say they had this pact," Strand said. "Putting it all together, it is our belief that they had planned to do this – but they didn't come out and say it."
The police chief said there were "absolutely no signs of struggle."
The bodies were found in the master bedroom. Investigators believe Jeanette Kimball shot her daughter once in the head with a handgun, then shot herself.
The women had locked the back door and lodged a chair underneath the front door's doorknob to keep anyone from entering, Strand said.
Strand, who was acquainted with the mother, said she had been under stress over her finances.
"I know that Jeanette was distraught and that she was concerned about some money problems and I know that the daughter and she were very close," Strand said.
He described the daughter – who lived in nearby Medford – as an unhappy person who "didn't want to be in this world any longer."
Neither suffered from a diagnosed medical condition, he said.
Local journalism is essential.
Give directly to The Spokesman-Review's Northwest Passages community forums series -- which helps to offset the costs of several reporter and editor positions at the newspaper -- by using the easy options below. Gifts processed in this system are not tax deductible, but are predominately used to help meet the local financial requirements needed to receive national matching-grant funds.
Subscribe now to get breaking news alerts in your email inbox
Get breaking news delivered to your inbox as it happens.
---