News > Spokane
Fire damages gym, hallway at school
Fri., June 3, 2005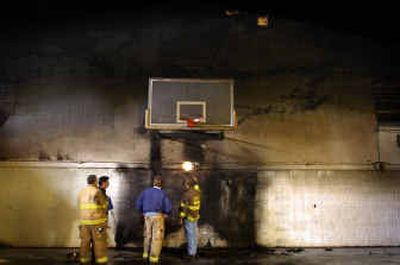 Spokane fire investigators believe someone intentionally set fires Thursday morning inside a hallway and gymnasium that connect a church and a private school.
A burglary alarm was tripped at 1:58 a.m. and Spokane Police responded four minutes later to Glad Tidings Assembly of God Church at 4224 E. Fourth Ave., fire investigator Lt. Chris Phillips said.
Those officers arrived, discovered the blaze and called firefighters, who arrived about 2:10 a.m.
"The fire was confined to the hallway and gymnasium, but there is a ton of smoke damage throughout the whole school," Phillips said. "The church portion didn't appear to be damaged at all."
The hallway connects the church to The Oaks Classical Christian Academy, a private school that has a posted enrollment of 174 students. Nobody was in either the school or the church at the time. Officers found an outer door to the hallway ajar, Phillips said.
"There were signs of forced entry," he said. School officials "have not found anything missing. I've had them search the entire church."
Very little damage was visible from outside the buildings. But the fire had gutted a hallway and several adjoining offices, fire investigator Capt. Mike Zambryski said.
"Our guys had to get inside to fight it," Zambryski said. "With this amount of soot falling down, the visibility was probably down to nothing. I bet they were fighting it blind."
The fire completely blackened the hallway, leaving charred and hanging light fixtures and torched office spaces.
The hallway carpet is where Zambryski and Phillips believe someone set the first fire.
"Most carpets won't support fire. If you hold a flame to it, it will burn. But if you take the flame away from it, it will go out," said Zambryski, as he pointed to a floor in the hallway which had virtually all its carpet burned away. "So, somebody had to put something on it that made it burn."
A second fire was started several feet away, inside the gym. It appears someone set fire to a padded plastic cushion that hangs on the brick wall under each basketball hoop.
The second fire completely burned the cushion and climbed the wall to the wooden rafters in the gym ceiling. Most of that roof will now have to be replaced, Zambryski said.
"I would guess the damage will be $100,000 at least," he said.
The local office of the federal Bureau of Alcohol, Tobacco, Firearms and Explosives responded and worked with Phillips and Zambryski on the investigation. ATF investigators often come to local fires to train, but they officially investigate any fires at churches, political buildings or fires started during terrorist activities, Phillips said.
Michael Collender, who teaches at The Oaks, arrived to work to find fire investigators and loud generators.
"It's a great place," Collender said. "It's a lot; it's going to be a lot of work."
Local journalism is essential.
Give directly to The Spokesman-Review's Northwest Passages community forums series -- which helps to offset the costs of several reporter and editor positions at the newspaper -- by using the easy options below. Gifts processed in this system are not tax deductible, but are predominately used to help meet the local financial requirements needed to receive national matching-grant funds.
Subscribe now to get breaking news alerts in your email inbox
Get breaking news delivered to your inbox as it happens.
---