News > Nation/World
Israel releases 398 prisoners to fulfill months-old pledge
Fri., June 3, 2005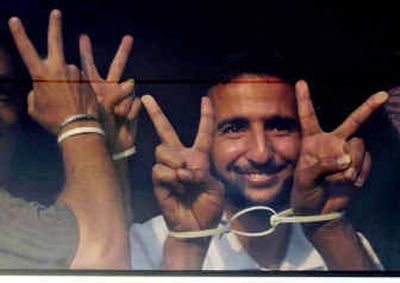 BEITUNIA, West Bank – Flashing victory signs and smiles, dozens of Palestinians were met by enthusiastic family members here Thursday as Israel released the last 398 of 900 prisoners it had promised to set free months ago.
The prisoner release, described by Israeli officials as a conciliatory gesture to Palestinian Authority President Mahmoud Abbas, came as the Palestinian leader said he felt fine after undergoing a minor heart procedure in Jordan a day earlier.
Amid chants and a few bursts of celebratory gunfire, about 75 prisoners arrived in two buses at the Beitunia crossing, a town near Ramallah that was among five spots in the West Bank and Gaza Strip where Israeli authorities dropped off the freed prisoners.
Despite outward jubilation, Palestinian officials and some of the prisoners criticized the Israeli action as a token action, complaining that many of those who were let go were near the end of their sentences. None was involved in any attack harming Israelis.
Prisoners' rights activists say about 8,000 Palestinians remain in Israeli jails and that new arrests have replenished those ranks despite the recent releases.
"I'm happy, but it's a short happiness. I left behind me 8,000 prisoners," said Wafa Abu Asma, 28, who completed about a third of his 43-month term in connection with a shooting incident.
At least half of the prisoners freed Thursday had less than 11 months to serve, and 45 were within two months of release, according to the Addameer Prisoner Support and Human Rights Association, a Palestinian group.
Israeli Prime Minister Ariel Sharon promised Abbas during a Feb. 8 summit to free 900 jailed Palestinians. The first group of 500 was released later that month, but Israel held off on the rest to underline its demand that Palestinian leaders take firmer action against armed militants.
Thursday's group was to include 400 prisoners, but two of them declined release.
Israel went ahead with the release even though officials said they had foiled a plot by the radical Islamic Jihad to carry out a pair of suicide bombings in a Jewish neighborhood north of Jerusalem. The army and Shin Bet domestic-security agency arrested five Palestinians believed to have been involved in preparations, according to Israeli security sources.
Authorities said the plot was run by an Islamic Jihad branch based in the West Bank town of Tulkarem that also was responsible for the Feb. 25 bombing of a Tel Aviv nightclub that killed five Israelis. On Thursday, the Israeli military made more arrests, bringing to eight the number of men jailed in connection with the thwarted plot.
A top Abbas aide called the release a positive step, but said it did not meet the Palestinians' desire to free all prisoners, some of whom have been jailed more than 20 years. In particular, Palestinian leaders and activists have called for freeing nearly 300 prisoners behind bars since before the 1993 Oslo agreements.
Most Palestinians consider the prisoners as heroes in the battle against the Israeli occupation, and the issue assumes huge symbolic importance for their leaders. Palestinian officials said they should have had a say in compiling the list of prisoners who were to be released.
Israeli officials say that the remaining prisoners include many who were involved in violent attacks against Israeli soldiers and civilians and should not be released.
Local journalism is essential.
Give directly to The Spokesman-Review's Northwest Passages community forums series -- which helps to offset the costs of several reporter and editor positions at the newspaper -- by using the easy options below. Gifts processed in this system are not tax deductible, but are predominately used to help meet the local financial requirements needed to receive national matching-grant funds.
Subscribe now to get breaking news alerts in your email inbox
Get breaking news delivered to your inbox as it happens.
---