Sports
LC's double dose of singles champs
Fri., June 3, 2005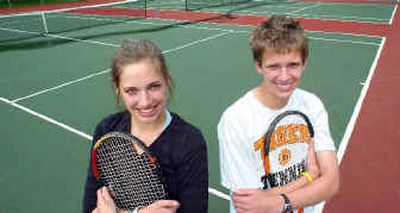 During the regular season, Lewis and Clark sophomore Ben Gullickson didn't necessarily excel as one of the top 4A tennis players in the state.
"I've usually lost all the tough matches during the regular season, but somehow I've been able to come through during the postseason," he said.
"In the regular season, it doesn't really matter if you lose. It really matters if you (win) in districts and regionals."
That sense of urgency led Ben Gullickson and his senior sister Anna to 4A Eastern Regional singles championships last weekend. Now both will vie for State 4A championships today and Saturday at University and Central Valley high schools.
While this is Ben's first trip to state, it will be Anna's last.
"I usually just gear it up for the postseason," she said. "That's where I really start getting confidence – in the high-pressure matches."
Anna has fared well under pressure, as shown by her three previous state tournament appearances. But each year she has fallen in the consolation semifinals, one match away from earning a medal.
"The goal I have for this year, that I've always had, is to actually place, to get at least sixth," she said. "So I'm really pushing for that goal this year – to actually get a medal for placing at state. That's what I'm looking forward to this year, so I just have to take it one match at a time."
Anna will try to accomplish her goal with her aggressive, unconventional style of play.
"My style of game is not traditionally for girls," she said. "My serve … playing aggressive and moving in (toward the net) has helped me get here."
Unlike Anna, Ben relies on more of a ground game.
"I can always fall back on it, no matter what," he said. "Even if my serve and volleys are going wrong, I can always count on my ground strokes."
In the boys singles draw, Ben is one of four players from the GSL, which swept every berth from the Eastern Regional.
"It's very tough," he said of the GSL. "It's really good, because that's the kind of tennis we need in Spokane. … But the West Side kids are really tough; they've always been tough. So it'll be really interesting to see how it plays out."
Ben will be joined by fellow first-time state competitors Adam Kret and Whitman Hough of rival Ferris, as well as Logan Napolsky of Mt. Spokane, who fell to eventual state champion Christopher Rice of Decatur in last year's quarterfinals. Mt. Spokane is also sending the boys doubles district champions, Jon Assmus and Andy Dorr, who finished fourth at regionals.
Hough won the District 8 4A title after defeating Gullickson in three sets. Gullickson beat Hough 6-2, 6-4 for the regional title.
"We've been playing each other for about six years outside of high school," Gullickson said. "We've gone on and off, like he'd win one, then I'd win one. It's a really good rivalry, and it's always fun to play him."
Gullickson and Hough could end up playing each other in a consolation match or the championship. However, both have tough potential quarterfinal draws. Gullickson might face four-time state veteran Joel Trudel of Bremerton, while Hough would likely take on Rice.
On the girls' side, only Gullickson and teammate Elise Otto earned state berths from the GSL.
"It's been awesome having a strong player (on the same team)," Gullickson said of Otto. "She's really competitive. She's a tough player, and she's really good to hit against. She's consistent, and she has a tough mental frame."
After splitting time in the No. 1 singles spot during the GSL season, Otto and Gullickson have split postseason titles. Otto defeated Gullickson for the district championship two weeks ago, and Gullickson won the rematch for the regional title last weekend.
For Otto, the lower seed brings the tougher draw. If she defeats fellow first-timer Natalia Agarycheva of Prairie in the first round, she would likely face defending champion and 2003 runner-up Stephanie Davison of South Kitsap. Davison defeated Gullickson 6-0, 6-1 in the 2003 quarterfinals.
Local journalism is essential.
Give directly to The Spokesman-Review's Northwest Passages community forums series -- which helps to offset the costs of several reporter and editor positions at the newspaper -- by using the easy options below. Gifts processed in this system are not tax deductible, but are predominately used to help meet the local financial requirements needed to receive national matching-grant funds.
Subscribe to the sports newsletter
Get the day's top sports headlines and breaking news delivered to your inbox by subscribing here.
---