News > Nation/World
Spellers show off way with words
Fri., June 3, 2005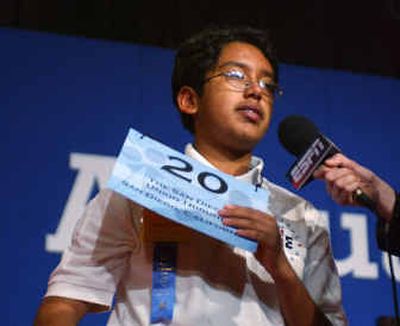 WASHINGTON – "Appoggiatura" was music to 13-year-old Anurag Kashyap's ears. Correctly spelling the word that means melodic tone, he clinched the 2005 national spelling bee championship.
An eighth-grader in Poway, Calif., Anurag ran into his father's arms and burst into tears. He said he felt "just pure happiness."
Beating out 272 other competitors, Anurag won Thursday in the 19th round of the 78th annual National Scripps Spelling Bee. His prize: $30,000 in cash, scholarships and books.
During the day, Anurag whizzed through relatively common words such as "prosciutto," an Italian dry-cured ham, and difficult ones such as "sphygmomanometer," an instrument for measuring blood pressure.
He sometimes spelled so fast that only the judges appeared to be able to follow him.
Anurag, a straight-A student at Meadowbrook Middle School – his favorite subject is science – tied for 47th in last year's spelling bee.
That experience "helped me to know what I should study to … like, win this thing," he said, repeatedly hiding his face behind his cardboard number.
Tied for second place were 11-year-old Samir Patel, who is home-schooled in Colleyville, Texas, and Aliya Robin Deri, 13, of Pleasanton, Calif.
They each get $4,000.
"I'm disappointed," Samir said afterward, adding that he will try again next year.
Aliya, who will begin high school next year and be ineligible for the 2006 contest, said she was happy with how well she did.
Aliya plays the violin, viola and piano and swims competitively.
She said after the contest that French is one of her favorite subjects.
"Though you wouldn't know it by the way I spelled the last word," she said. She was eliminated when she missed "trouvaille," a lucky find.
Samir, a perky, expressive boy, delighted the audience with several of his questions and comments in the later rounds.
Twice on hearing the word he had to spell was familiar to him he said, "Yes!", once adding, "If this is the word I think it is, I know it."
Upon correctly spelling "filiciform," in the sixth round, the home-school Samir yelled, "Thanks, Mom!" into the audience.
Samir ultimately stumbled on the word "roscian," meaning skilled in acting.
Two years ago, when Samir tied for third place, bee winner Sai Gunturi predicted he would be a force to be reckoned with in future contests.
Most of the contestants at the bee's start were from the United States and its territories, but 14 were foreign students. There were 11 from Canada and one each from the Bahamas, Jamaica and New Zealand.
Each speller wins at least $50. The first-place winner gets $28,000 in cash, scholarships and savings bonds, plus books from Encyclopedia Britannica. That's about $10,000 more than in previous years.
The contest is administered by E.W. Scripps Co.
The youngsters all won local contests sponsored by newspapers.
Local journalism is essential.
Give directly to The Spokesman-Review's Northwest Passages community forums series -- which helps to offset the costs of several reporter and editor positions at the newspaper -- by using the easy options below. Gifts processed in this system are not tax deductible, but are predominately used to help meet the local financial requirements needed to receive national matching-grant funds.
Subscribe now to get breaking news alerts in your email inbox
Get breaking news delivered to your inbox as it happens.
---