News > Nation/World
With Cox at helm, SEC priorities may shift to the pro-business side
Fri., June 3, 2005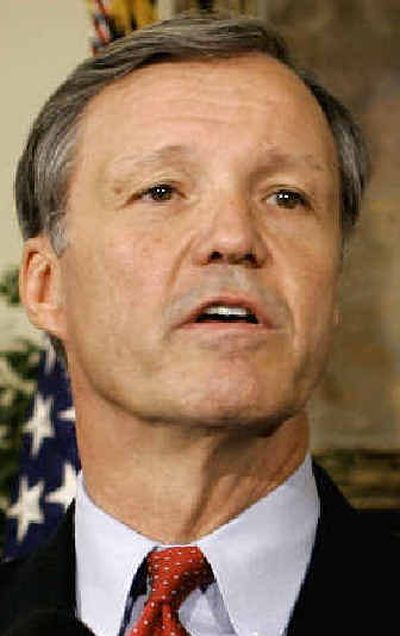 WASHINGTON – The president formally nominated Rep. Christopher Cox to serve as chairman of the Securities and Exchange Commission Thursday, setting the stage for a dramatic shift in the agency's priorities, which over the past two years have been focused on new regulation and stepped-up enforcement.
Cox, 52, a Republican from California, has taken pro-business positions on many issues. He sponsored legislation that curtailed plaintiffs' right to bring lawsuits alleging securities violations and opposed a regulatory drive to treat stock options as expenses, fighting on the side of the technology firms that constitute much of his Orange County constituency.
Among his biggest financial supporters during 16 years in Congress are law firms including Latham & Watkins LLP and the nation's largest accounting firms, including Ernst & Young LLP, PricewaterhouseCoopers LLP and KPMG LLP. Securities firms have donated more than $254,000 to Cox during his congressional tenure, according to the Center for Responsive Politics.
Cox has an 87 percent lifetime rating from the U.S. Chamber of Commerce, meaning he has voted in favor of the chamber's position on legislation most of the time, according to R. Bruce Josten, an executive vice president who worked closely with the lawmaker on the securities litigation bill in 1995.
Securities Industry Association leaders said they saw the Cox nomination as an opportunity for the agency to "reassess burdensome, duplicative, costly" regulations. AeA, a technology association, applauded his "staunch" past support.
"Chris understands how markets work, and he knows the need for transparency in financial exchanges and in the halls of business," President Bush said at a brief news conference. "He proved that he can bring people together of diverse opinions to get things done. That kind of leadership will be invaluable as the chairman of the SEC."
Cox is a graduate of Harvard Law School and Harvard Business School, "one of the smartest guys in Congress, without question," according to veteran securities lawyer John Olson. For nearly a decade Cox represented corporations for the Latham firm, which has counted the accounting firm Arthur Andersen LLP and Merrill Lynch & Co. among its clients. Cox also spent two years as a senior associate White House counsel in the Reagan administration, where he handled budget and international issues.
The appointment comes in the same week the U.S. Supreme Court reversed Arthur Andersen's obstruction-of-justice conviction resulting from its work for client Enron Corp. and as an Alabama jury continues to deliberate in a trial of a former health care executive accused of violating the Sarbanes-Oxley corporate accountability law.
In selecting Cox, the administration chose a candidate whose background is far different from his predecessor's. William Donaldson, who said he will leave the agency June 30, was a Wall Street titan pressed into service toward the end of a long, distinguished career as an investment banker and head of the New York Stock Exchange, immune to pressure to earn a living after he left government.
"I'm trying to go back in my memory to think about when the last time a sitting politician was nominated to lead the SEC," said Duke University law professor James Cox, who is not related to the congressman.
Plaintiff lawyer William Lerach, who fought Cox on the securities litigation law in the mid-1990s, said the appointment "is like putting the fox in the chicken coop."
But Peter Wallison, a former White House counsel who supervised Cox, called him "the kind of person who would correct a lot of (missteps) the Donaldson commission made." Wallison said Cox "would be driven by data instead of adopting regulations because they seemed like a good idea."
Senate Banking Committee Chairman Richard Shelby, R-Ala., called him "an outstanding choice to guide the SEC at an important juncture." Sen. Charles Schumer, D-N.Y., said he hoped Cox would be both "pro-business and pro-regulation."
"The free and efficient movement of capital is helping to create the greatest prosperity in human history," Cox told reporters at the White House Thursday. "The natural enemies of this economic marvel are fraud and unfair dealing."
Senate Democrats have asked the White House to nominate SEC division head Annette L. Nazareth to fill the Democratic seat on the commission that will become vacant when Commissioner Harvey J. Goldschmid leaves later this year and to renominate Roel C. Campos for a second term. If the White House submitted the three as a package, it could make it easier for all three to achieve confirmation.
Local journalism is essential.
Give directly to The Spokesman-Review's Northwest Passages community forums series -- which helps to offset the costs of several reporter and editor positions at the newspaper -- by using the easy options below. Gifts processed in this system are not tax deductible, but are predominately used to help meet the local financial requirements needed to receive national matching-grant funds.
Subscribe now to get breaking news alerts in your email inbox
Get breaking news delivered to your inbox as it happens.
---