News > Nation/World
Abbas has plans for a deputy
Sat., June 4, 2005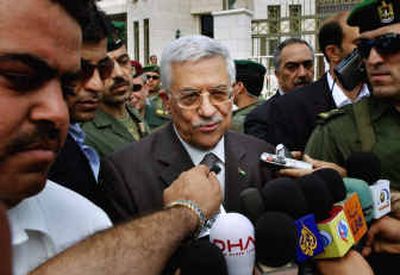 JERUSALEM – After a sudden health scare, Palestinian leader Mahmoud Abbas said Friday he planned to name a deputy, raising the touchy issue of succession just five months into his tenure.
The announcement by the 70-year-old leader, who has a history of health troubles, appeared to be aimed at grooming an heir – something his predecessor, Yasser Arafat, fiercely resisted during a four-decade reign. But some speculated Abbas may simply be trying to neutralize his political rivals by creating a symbolic post.
Abbas checked into a hospital in neighboring Jordan on Wednesday after complaining of fatigue. Doctors said he underwent an angiogram, a procedure to check coronary arteries for blockage.
While Abbas said he felt fine after the procedure, his sudden hospitalization raised new concerns about his health and the lack of preparations should he become incapacitated. Abbas is a survivor of prostate cancer and also has undergone eye surgery.
Returning to the West Bank on Friday, Abbas said naming a deputy is "very important" and he planned to discuss it with his Cabinet and the legislature. He did not say whom he had in mind for the job.
Candidates for the post would likely include the prime minister, Ahmed Qureia, who is frequently at odds with Abbas; Foreign Minister Nasser al-Kidwa, Arafat's nephew and longtime U.N. ambassador who is respected at home and abroad; and Marwan Barghouti, an uprising leader jailed by Israel.
Information Minister Nabil Shaath said Abbas wants someone to share responsibilities with and to stand in for him when he is abroad.
Abbas was hospitalized at the end of a nearly monthlong trip to South America, Asia and Washington. During his absence, a 4-month-old cease-fire with Israel nearly broke down.
Shaath said the longer-term future of the Palestinians is also a concern for Abbas.
"He is now 70, and as he himself has said, souls are in the hands of God," Shaath told the Associated Press.
Israeli Prime Minister Ariel Sharon called Abbas Friday to wish him good health, Sharon's office said. The two leaders are to meet June 21 to discuss implementation of their Feb. 8 truce agreement, including the promised handover of more West Bank towns to Palestinian control.
Although Sharon has criticized Abbas for not being tough enough against militant groups, he says he wants to work with the Palestinian leader, who has been an outspoken critic of violence. Sharon had refused to deal with Arafat, accusing him of encouraging violence against Israelis.
"We have every reason to wish him (Abbas) good health," said Israeli analyst Yossi Alpher. "If something happens to him … it's a huge problem. There is no obvious successor with his views."
If Abbas names the popular Barghouti, he could boost his own standing ahead of upcoming parliament elections in which the opposition group Hamas is mounting a serious challenge to Fatah. Barghouti, a member of the "young guard" of Palestinian leaders, is widely scene as a potential rival to Abbas.
There also was speculation Abbas wants to create a symbolic post to sideline his biggest political rival, Farouk Kaddoumi, the nominal leader of the ruling Fatah party, who has chosen to remain in exile. Tensions between the two have flared in recent months and Abbas could appease Kaddoumi by making him deputy, said Palestinian legislator Azmi Shuabi.
Abbas has the right to name a deputy without parliament's permission. But under existing law, that person would not become president if Abbas died. Instead, the parliament speaker would be president for a 60-day transition period, as was done after Arafat's death.
Local journalism is essential.
Give directly to The Spokesman-Review's Northwest Passages community forums series -- which helps to offset the costs of several reporter and editor positions at the newspaper -- by using the easy options below. Gifts processed in this system are not tax deductible, but are predominately used to help meet the local financial requirements needed to receive national matching-grant funds.
Subscribe now to get breaking news alerts in your email inbox
Get breaking news delivered to your inbox as it happens.
---