News > Idaho
Audiologist looks forward to going to work
Sat., June 4, 2005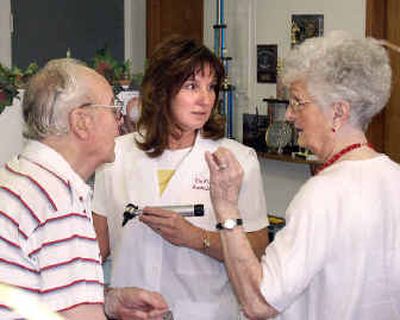 Tia Flynn loves helping people hear better – an important job because, as she reports, nearly 28 million Americans suffer from some form of hearing loss.
She became interested in audiology in college and now enjoys her work so much that she volunteers her services at local senior centers and provides free earwax removal in her office (and you thought your job was tough). She has a master's degree in audiology and will complete her doctorate in August.
In her spare time, Flynn paints abstract watercolors (her works were recently accepted at the Douglas Gallery in Spokane) and races dirt bikes – for which she has a shelf of trophies in her office.
What is your job title? "Audiologist, owner of Affordable Hearing Aids in Coeur d'Alene."
How long have you been doing this? "Nine years if I count the clinicals and internships during college. I have owned my own private practice for 5½ years."
How did you choose this line of work? "When I started college I thought I wanted to be a speech-language pathologist, but I enjoyed the hearing classes better."
Are you paid: (a) well; (b) more than you are worth; (c) slave wages, (d) could be better? "Well – but it took a lot of hard work to get here."
What is the best thing about your job? "Helping people hear better. What is better than that? That is one of the best feelings in the world."
What is the worst thing about your job? "Insurance billing and paperwork. I would rather just help patients, but there is a ton of paperwork with this career."
Do you plan on doing this job (a) until retirement; (b) until something better comes along? "Until I retire. I have invested 8 years of education into this career and 5½ years of time and energy into a private practice. I am in way too deep to change careers now. Anyway, I love what I have created for myself. I look forward to going to work each day.
Do you have any on-the-job funny stories? "One time I removed a plug of earwax from a patient's ear just to find it later stuck to my big toe nail. Gross! One day I was at a retirement home performing a service call and the patient answered the door with his Depends on the outside of his pants. It was really hard not to laugh. Another time I was giving a speech test and the patient kept answering with dirty words (there were no dirty words in the test). Trying to keep a straight face was very tough."
Any bad experiences? "I have had a few grumpy elderly people slam their hearing aids on the counter because they weren't working right. Usually the aid just needed a thorough cleaning then the patient is happy to hear again. I had to file a small claim on a patient that didn't pay for his hearing aids like he agreed to. I still haven't been paid and that was over two years ago."
If there was a movie made about you and your job, what actor should play you and why? "Actress Julia Louis-Dreyfus (Elaine from 'Seinfeld'). I think she could take the sad disability of hearing loss and associated stigmas with hearing aids and make people laugh and joke about them. She could make an entertaining movie all the while educating the public about the help that is available."
Local journalism is essential.
Give directly to The Spokesman-Review's Northwest Passages community forums series -- which helps to offset the costs of several reporter and editor positions at the newspaper -- by using the easy options below. Gifts processed in this system are not tax deductible, but are predominately used to help meet the local financial requirements needed to receive national matching-grant funds.
Subscribe now to get breaking news alerts in your email inbox
Get breaking news delivered to your inbox as it happens.
---