News > Idaho
Bob Goetze recognized by NIAEYC
Sat., June 4, 2005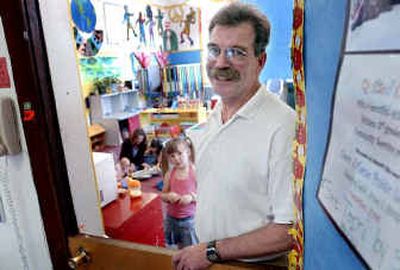 By his own admission Robert "Bob" Goetze loves children.
"I understand and like children, and I have never been able to understand adults," Goetze says with a hearty laugh.
Goetze, an educator, counselor, educational consultant and administrator, was recently presented the Director of the Year Award by the North Idaho Association for the Education of Young Children.
He received this distinction for his "leadership, community involvement, and commitment to families."
Goetze, along with wife, Deborah, has owned Stepping Stones Learning Center in Coeur d'Alene for the last 161/2 years. Stepping Stones is an independent preschool and child-care facility that serves more than 100 students from the ages of eight weeks through 7 years.
More than 200 early childhood educators, from the five northern counties, attended the eighth annual Early Childhood Professional Recognition Banquet held at North Idaho College to recognize professional achievements and celebrate their work with young children.
NIAEYC is an affiliate of the National Association for the Education of Young Children, which is considered one of the largest and most influential organizations of early childhood educators.
According to their mission statement, NIAEYC exists for the "purpose of leading and consolidating the efforts of individuals and groups working to achieve healthy development and constructive education of all young children."
Because he handles building maintenance in addition to running Stepping Stones, the children chant "Bob the Builder" when he walks into the building, and while they run to the door to give him hugs. He is known for saying hello to each child by name and returning the numerous hugs.
When asked what he enjoys most about his work, Goetze smiles and replies, "Where else do you go to work and get 30 hugs when you walk into the door?"
A nomination packet, called "What We Like About Bob," consisting of drawings and letters of support from students, parents and teachers, was submitted on Goetze's behalf.
Keara, 5, wrote, "What I like about Bob is how his keys jingle and he smiles with his big long mustache."
Andi, 5, drew a picture of a rainbow with two stick figures and said, "This is me and Bob jumping on a rainbow. I like him!"
Mercedes, 4 wrote, "Bob makes funny faces that I like!"
Stepping Stones teacher Terri Simmons, praised Goetze in her nomination letter.
"It's no secret that Bob is one of the very few men in this field in our area. Maybe some don't see that as big deal, but I guess I do. The influence Bob has on the kids in our school is great. He is patient and receptive and kind, and I'm proud that we have that at our school."
Parents Mike and Shelly Cobetto said this about Goetze, "There is not a day that goes by that he doesn't doctor a boo-boo, read a story, kindly discipline a child, and talk with a parent while wearing his tool belt strapped to his hip. As a role model he has great respect for all those who have admired his great involvement in the early educational years of our children."
Goetze began his career in education in 1970 in Baltimore teaching middle and upper school English and coaching football and lacrosse. After numerous positions on the East Coast, Goetze relocated in 1977 to Clearwater Valley High School in Kooskia, Idaho.
He became the executive director of Stepping Stones in 1988 and owner/president in 1992. Goetze attended the University of Idaho and received his master's in education in Counseling and Human Services 1991.
Besides NIAEYC, Goetze serves on the Governor's Committee on Employment of People with Disabilities, the American/European Educational Association, and is member of the Coeur d'Alene Childcare Commission.
Currently, he is a North Idaho College field experience facilitator who helps future teachers understand what the "real" classroom is all about in Introduction to Teaching.
The rewards of teaching for Goetze come from the numerous calls, letters and comments he has received from former students over the years.
"These rewards still happen on a daily basis and make it all worth it," Goetze says smiling.
Membership in the North Idaho Association for the Education of Young Children is open to all who share a desire to act on the behalf of the needs and rights of young children. For more information, call Bob Goetze, 667-0309.
Local journalism is essential.
Give directly to The Spokesman-Review's Northwest Passages community forums series -- which helps to offset the costs of several reporter and editor positions at the newspaper -- by using the easy options below. Gifts processed in this system are not tax deductible, but are predominately used to help meet the local financial requirements needed to receive national matching-grant funds.
Subscribe now to get breaking news alerts in your email inbox
Get breaking news delivered to your inbox as it happens.
---