Sports
Butorac busts loose for record 400
Sat., June 4, 2005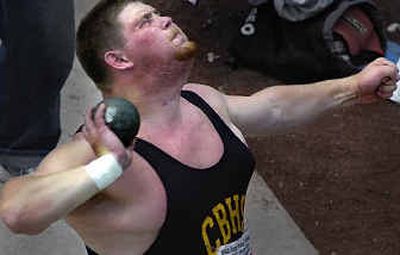 Chad Butorac gave the appreciative crowd at Eastern Washington University's Woodward Field something to cheer about Friday in the middle of more than nine hours of non-stop running prelims during the second day of the State 2A/1A/B boys track and field championships.
In the lone running final, the speedy Northport senior broke the 400-meter B meet record he had erased 17 hours earlier, winning in a time of 48.58 seconds. His time was more than a half-second (.61) faster than his prelim Thursday.
Butorac dethroned two state champions in one race. Wilbur-Creston's Braidy Haden, who edged Butorac last year, took fourth (50.42) and North Beach's Devin Timpson, who won the 1A state title a year ago, finished runner-up, 10 meters behind Butorac, with a respectable time of 49.39.
"I saw these guys run in the prelims and they were super fast," Butorac said. "I just knew I had to stick to my race plan and come out fast. I hoped they would get pulled out of their race."
Meets conclude today with the balance of the field events starting at 9:30 a.m., and the first of eight races at 10.
B
Butorac felt loose before the race.
"I didn't have a state championship to lose, so that kind of helped me out," said Butorac, who will seek repeat state titles in the 100 and 200 today.
Butorac's motor was revved long before the starter's pistol fired.
"I just hit it hard from the very beginning," Butorac said.
He also improved his personal best after clocking 48.75 at the District 7 meet last week.
Butorac said he thought he could feel his lead shrinking as he made the final turn down the homestretch.
"When I got on the straightaway, I could have swore they were right behind me so I just kicked it in as hard as I could," Butorac said. "I must have just been hearing things."
In the end, all Butorac heard was the crowd.
"There's nothing like coming down the (final) stretch," he said. "You hear that crowd and they pick you up. It helps you finish the race because it's for them as much as it's for you. They want to see a good race."
Timpson was surprised by Butorac's start.
"I didn't think he'd go out that fast," Timpson said. "He got too far ahead and I couldn't catch him."
Butorac and Timpson will go head-to-head in the shorter sprints today.
"They're going to be good races," Timpson said.
Butorac agreed. But he'll savor the 400 win – if only for less than a day.
"I've been training really hard, especially for this race, because I know I'll probably be a 400 runner in college," said Butorac, who plans to accept a partial scholarship to EWU.
In the high jump, defending champ Justin Powell of Wilbur-Creston finished third (6 feet, 2 inches) while Adam Thompson of Springdale took second (6-4).
Defending state champ South Bend leads after six events with 17 points. Klickitat is next with 15, and Springdale and W-C are tied for third at 11 with DeSales.
1A
Freeman senior Kevin Hatch defended his state titles in the high jump and pole vault.
In the high jump, Hatch won with a personal best of 6-8 – 6 inches higher than a year ago at state. But his winning mark in the pole vault, 14-0, was 9 inches less than last year's state-winning mark and 15 inches shy of his state-qualifying jump.
Hatch tried to be as efficient as possible in the high jump to save something for the pole vault because both events were going on simultaneously. He made his first attempts at 6-0, 6-2 and 6-4. After securing his gold medal, he had the bar raised to 6-8 and cleared the final height on his last jump. He chose not to jump again.
"I wanted to beat my personal best (6-7)," Hatch said.
About 45 minutes later, Hatch missed on his first attempt in the pole vault at 13-0. He was over the bar by at least a foot on his next attempt. He passed until 14-0, where he needed two attempts to capture his third state title in the event. He had the bar increased another foot, but missed on all three tries.
"I went for it too early instead of really driving it (the pole) in there," Hatch said of his technique. "That's what 14 to 15 is – it's just driving it in and holding it longer than I did. It was there, but it's all really technical. I just rushed it.
"It's a little disappointing, but I'm still happy with the performance. It's fun to come out on top either way."
Hatch, who plans to walk on for football and track at EWU, will try for gold in the long jump today. A state champ in the triple jump as a sophomore and runner-up last year, he dropped the event this year to avoid heel injuries that plagued him last spring.
"I gave it up completely just to be healthy this year," Hatch said.
Powered by Hatch's victories, Freeman leads with 28 points through six events. Zillah is next at 22, followed by Charles Wright (21) and title hopeful Newport (18). The majority of Newport's points will come in running finals today.
One meet record was set in the shot put by Adam Lovick of Clallam Bay (55-3 1/2 ).
2A
Steven Wesley of Medical Lake was the lone local winner.
A starting forward on the Cardinals' state-title basketball team this season, Wesley collected a gold medal in the triple jump. His leap of 43-10½ was a half-inch shy of his personal best.
"I wanted to get the school record (45-7) this year," said Wesley, who signed a letter of intent to play basketball at North Idaho College. "After I got the knee injury, I started shooting for the state championship. It's been a good senior year. I couldn't ask for more."
Wesley's title gave ML 18 points through six events, second behind King's (29).
One meet record was set. Michael Davis of King's threw 191-5 in the javelin, breaking the old mark by more than 18 feet.
Local journalism is essential.
Give directly to The Spokesman-Review's Northwest Passages community forums series -- which helps to offset the costs of several reporter and editor positions at the newspaper -- by using the easy options below. Gifts processed in this system are not tax deductible, but are predominately used to help meet the local financial requirements needed to receive national matching-grant funds.
Subscribe to the sports newsletter
Get the day's top sports headlines and breaking news delivered to your inbox by subscribing here.
---