News > Idaho
Charter graduate's goal to help crew KC-135
Sat., June 4, 2005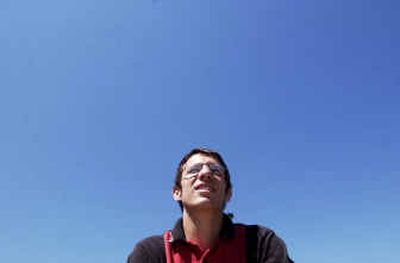 "I love speed – speed of any kind," Jacob "Tim" Leptich says.
If Leptich had his way, he would be piloting an F-16, cruising at G-force. Leptich graduated from Coeur d'Alene Charter Academy Wednesday. G-forces are the forces of acceleration that pilots encounter when engaged in high-speed dogfighting.
Understanding Leptich's love of speed makes it easy to comprehend why this young man has wanted to be an Air Force pilot ever since he was a "little tyke."
"It did not matter if it was a bike, roller coaster or plane, I just wanted to go as fast as I could go," Leptich says.
Leptich's goal is to become a KC-135 refueling aircraft air crew member. His eyesight prevents him from becoming a pilot. Leptich has requested duty at Spokane's Fairchild Air Force Base, home to the largest refueling wing in the Air Force. KC-135's are an in-flight refueling aircraft that serve as a "flying gas station" for everything from jet fighters to B-52 bombers.
The oldest of three children, Leptich drives a 1973 VW bug named "Stanley," works part time at Pizza Hut, and reads books about aviation history. He is an avid bicycle enthusiast who enjoys the mountain bike trails on Canfield Mountain, and whose No. 1 hobby recently has become skate-park maneuvers.
He plans to work this summer and enlist in the fall.
Leptich has been a member of the Coeur d'Alene Civil Air Patrol, the official auxiliary of the Air Force, since he was 11 years old. CAP cadets range in age from 12 to 21; many join the military, attend military academies or choose careers in aerospace and aviation.
Cadets are enrolled in a structured program that is divided into 16 segments called achievements, involving study and performance in five program areas. Upon completion of each achievement, the cadet earns increased responsibility, decorations, awards, eligibility for national and international special activities, and opportunities for flight and academic scholarships.
"CAP teaches discipline, leadership, moral and ethical values and respect for others," Leptich says. "It has been a very positive experience for me."
Leptich has received the General Billy Mitchell Award which is earned after the first eight achievements of the cadet program are completed successfully.
Earning the Mitchell Award means a cadet has passed a challenging 100-question examination testing leadership theory and aerospace topics, and when he enlists he is also eligible for advanced placement to the grade of E-3 or Airman 1st. Class.
The Coeur d'Alene Squadron operates a CAP Cessna 182 and two member-owned aircraft as well as two vans that are readily available to assist with search-and-rescue missions, disaster relief and homeland security.
Leptich has volunteered and participated in about 25 searches in Kootenai County. Working as a ground team member with the Kootenai County Sheriff's Department, Leptich recalls the Horsehaven search. About five years ago a small two-seat Cessna with two pilots was reported down. Search-and-rescue never did find the plane, even though a massive search was organized. Hunters stumbled upon the ruins of the plane years later.
"Search-and-rescue provides me an opportunity to participate in something that makes a difference. You can save someone's life," Leptich says.
Leptich attributes his success to his parents, Dave and Barbara, and to family friends, David and Debbie Owens.
His favorite subject is study of world religions taught by Dr. William Proser, Charter Academy founder, and to whom Leptich credits his school success.
"We discuss philosophy and our grade is based on logic and debates. We learn a lot in class," Leptich says. He plans to continue his education in the Air Force.
Leptich's advice to people is to work hard.
"The harder a person works early on – the greater the results will be down the road. The sacrifice is well worth it," Leptich says.
Local journalism is essential.
Give directly to The Spokesman-Review's Northwest Passages community forums series -- which helps to offset the costs of several reporter and editor positions at the newspaper -- by using the easy options below. Gifts processed in this system are not tax deductible, but are predominately used to help meet the local financial requirements needed to receive national matching-grant funds.
Subscribe now to get breaking news alerts in your email inbox
Get breaking news delivered to your inbox as it happens.
---