News > Idaho
CHS seniors bring projects before panel of judges
Sat., June 4, 2005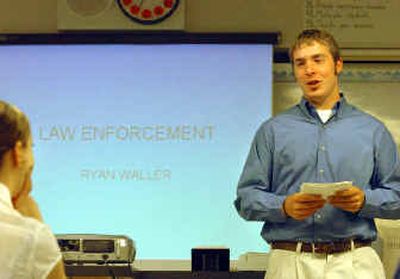 Tiffany Kimball started her senior project last fall pretty confident that she wanted to be a taxidermist once she graduated from Coeur d'Alene High School.
After months of research and hands-on experience – including mounting a deer head – taxidermy is still Tiffany's career of choice. Even better than the stuffed deer head Tiffany showed off at the final presentation of her senior project, Tiffany got a job offer.
Classmate Katy McCabe discovered she didn't really want a job as an ultrasound technician, a career that first appealed to her 11 years earlier as she watched her pregnant mother receive an ultrasound.
When McCabe spent time at North Idaho Imaging, she only got a chance to watch one pregnancy ultrasound. Most of the ultrasound patients were senior citizens complaining of achy necks and back pain.
"I won't go through college now thinking I'm really interested in ultrasounds," McCabe said.
Every senior at the high school is required to participate in the school's senior projects through their English class. The project, which includes an extended research paper and 15 hours of service, counts toward a quarter of their English grade.
Months of work went into the presentations that Kimball, McCabe and other seniors delivered in front of a panel of judges on May 27.
Chris Mitchell talked about the influence of subliminal messages in advertising and the media. For his project, Chris worked with a mentor from an advertising company to look at Joe Camel, the cartoon character that was used for years in ads for Camel cigarettes.
Then Mitchell met with Tony Stewart, North Idaho College's political science instructor, who helped him record a radio commercial using subliminal messages.
Mitchell, who has played guitar since elementary school, decided to produce a commercial about Fender guitars, using words that could innocently apply to guitar-playing, but also had a sexual connotation.
Nick Hite talked about the negative impacts the media has on children.
"Violence is really, really growing among teens," Hite said. He said research revealed that children see 16,000 simulated murders on TV before they reach age 18.
Saturday morning cartoons include 20 to 25 acts of violence per hour, he said. He interviewed middle school students about the clothes they wear, the shows they watch and the language they hear.
Now, Hite said he's more conscious of what he watches on TV.
Club Peace raises money
Timberlake High School's Club PEACE (People Everywhere are Created Equal) raised more than $600 May 24 for St. Vincent de Paul's transitional housing and for Concerned People For Animals, a nonprofit animal welfare organization.
Students collected pledges and walked laps around the Timberlake track for the annual fund-raiser.
Advisor Jacqui Duran said the club holds a faculty versus senior class basketball game each year to raise money for college scholarships. This year the club awarded two $350 scholarships to students who were involved in the school and their community.
Budd chosen for summer institute
Cindy Budd, a fifth-grade teacher from Holy Family Catholic School, is one of 36 teachers nationwide selected to participate in the 2005 "We the People: The Citizen and the Constitution Summer Institute for Teachers." Budd will visit Washington, D.C., in early summer to visit the Supreme Court, the Capitol, the White House and various memorials. She will then go to James Madison University for various sessions and to participate in a simulated congressional hearing.
Budd's travel, lodging and meals will be paid for, and she will receive a library of constitutional literature and a set of textbooks and materials for her Coeur d'Alene classroom.
Lakeland's Students of the Month
Lakeland High School's Students of the Month are Will Marks, Todd Underhill and Austin Eckhardt.
Marks, a sophomore, is the son of Ron and Lisa Marks. He plays football, basketball, baseball and enjoys hunting. He wants to be a mechanic.
Underhill is a junior at Lakeland and son of Rod and Marianne Underhill. He enjoys wakeboarding, snowboarding, track and fishing. He plans to attend the University of Idaho and study engineering.
Eckhardt, a senior, is the son of Thomas and Sue Eckhardt. He likes to play cards, video games and football. He plans to attend North Idaho College.
Musicians win awards
The following Coeur d'Alene High students received awards at the Idaho State Solo Competition in Boise on May 7: Terry Fairchild, viola, second place; Gerry Fairchild, violin, fourth place; Katie Olin, violin, 10th place; Greg Smatlan, snare drum, fourth place; Katie Woodard, trombone, fourth place; Alex Crandall, trombone, sixth place; Morgan Strong, cello, seventh place; Holly Blanchette, oboe, sixth place; and Elisa Bright, trumpet, 10th place.
Lake City High's strings and band students competed at a recent Large Group Festival at North Idaho College. The advanced orchestra received a superior rating, with the highest score at the festival. The symphonic band was rated superior with the second-highest score, the concert band was rated superior and the string ensemble was rated excellent.
The school's concert choir, chamber choir and treble choir received superior ratings and the general choir received a rating of excellent.
Local journalism is essential.
Give directly to The Spokesman-Review's Northwest Passages community forums series -- which helps to offset the costs of several reporter and editor positions at the newspaper -- by using the easy options below. Gifts processed in this system are not tax deductible, but are predominately used to help meet the local financial requirements needed to receive national matching-grant funds.
Subscribe now to get breaking news alerts in your email inbox
Get breaking news delivered to your inbox as it happens.
---