News > Nation/World
'Congestion charge' easing traffic in London, mayor says
Sat., June 4, 2005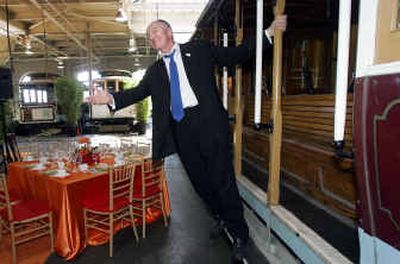 SAN FRANCISCO – The mayor of London told a gathering of world mayors Friday that they could unclog city streets and fight global warming by charging hefty fees to drive in congested areas of their communities.
Mayor Ken Livingstone said making drivers pay a "congestion charge" to drive in central London has improved traffic flow and reduced emissions of "greenhouse gases" blamed for raising temperatures and changing weather patterns worldwide.
The $9 fee has forced people out of their cars and filled city buses, subways and sidewalks, he told mayors assembled here for the United Nations World Environment Day Conference.
"We are the only city in the Western world where there's a notable shift from car use to public transport," the London mayor said during a speech at San Francisco's Cable Car Museum. "This is the only thing I've done in my political life that turned out better than I hoped."
In the United States, environmentalists have sought similar congestion taxes to clear up downtown traffic in cities such as New York and San Francisco, but so far the idea has not gained much traction.
In San Francisco, drivers already must pay $3 to cross the Bay Bridge and $5 to cross the Golden Gate Bridge into the city, but commuters who live in the populous suburbs south of San Francisco can drive downtown for free. Supervisor Jake McGoldrick wants the city to explore the idea of a downtown congestion tax and has applied for a federal grant to study the proposal.
Even in the politically liberal Bay Area, the idea has run into opposition from business interests that say imposing a congestion tax would discourage companies from locating downtown because employees would balk at paying more to commute.
"It would be a pricing mechanism that drives businesses out of downtown areas," said John Grubb, spokesman for the Bay Area Council, a business advocacy organization. "And it would be a disincentive for businesses already downtown."
Livingstone, who was elected to his first term as London mayor in 2000 and re-elected last year, introduced the fee in February 2003 to relieve his city's traffic-choked streets. Revenues are reinvested in the public transportation system.
Local journalism is essential.
Give directly to The Spokesman-Review's Northwest Passages community forums series -- which helps to offset the costs of several reporter and editor positions at the newspaper -- by using the easy options below. Gifts processed in this system are not tax deductible, but are predominately used to help meet the local financial requirements needed to receive national matching-grant funds.
Subscribe now to get breaking news alerts in your email inbox
Get breaking news delivered to your inbox as it happens.
---