News > Features
Dean's appeal lingers 50 years after death
Sat., June 4, 2005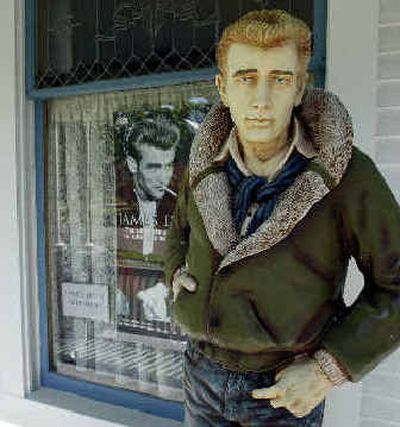 FAIRMOUNT, Ind. – Red lipstick kisses are sun-baked into James Dean's pink granite gravestone, testifying to the enduring allure of the man who, 50 years after his death, remains a symbol of rebellious, misunderstood youth.
Frozen in time by death – forever handsome, sullen and projecting a cool nonchalance – Dean is winning new fans with his legacy of cinematic magic, sex appeal and tragedy.
His three big films – "East of Eden," "Rebel Without a Cause" and "Giant" – have been digitally restored and were released Tuesday as a DVD box set.
And this weekend, an estimated 100,000 people – including Martin Sheen and Dennis Hopper – are converging on Marion, Ind., his birthplace, for a three-day festival featuring outdoor screenings of the films on a 100-foot screen at the airport.
The former Indiana farm boy's lasting appeal stems in part from the era in which he made his big, but brief, splash, says San Francisco-based film historian David Thomson.
Dean arrived on the silver screen as teenagers were searching for unorthodox heroes in the conformist Eisenhower era.
His acting style, fresh and filled with angst, was new and revealed a deep talent, Thomson says. And by dying young – at 24 – Dean never experienced the ravages of age and weight gain like peers Marlon Brando and Elvis Presley.
"Dean is absolutely at his peak – forever. He was already immortal before most of us saw him and that's part of the fascination," Thomson says. "Everyone's got their own notion of what would have happened to James Dean if he had not died."
Dean was 9 years old and living with his parents in California when his mother died of cancer in 1940. His father sent him to live with an aunt and uncle on their farm in Fairmount, about 50 miles northeast of Indianapolis.
Dean's cousin, 61-year-old Marcus Winslow Jr., says the man he regarded as an older brother grew up in a loving Quaker home but was moody at times, haunted by his mother's death. He loved working on and racing motorcycles and was artistic, with a talent for painting, sculpting and acting in high school plays.
By the time he left Fairmount, Dean was confident in his acting abilities, Winslow says.
"He wanted to reach the top of his field just a fast as he possibly could. And he did, through a lot of hard work," says Winslow, Dean's primary heir.
After graduating from Fairmount High School in 1949, Dean headed west to California, attending UCLA before moving to New York, where he was accepted into the prestigious Actors Studio. He had several roles on television and on Broadway before landing his first starring film role, in "East of Eden."
"Rebel" followed and filming for "Giant" had just wrapped when a station wagon collided with Dean's silver Porsche Spyder near rural Cholame, Calif., on Sept. 30, 1955. He died instantly, and Fairmount was soon besieged by a wave of grieving fans.
They still come to the town of 3,000, which has several sites, stores and a museum dedicated to its favorite son. Businesses there flourish during an annual fall festival that features a Dean look-alike contest and a classic car show.
His legacy extends well beyond Indiana. Forbes magazine last fall listed Dean at 15th among 22 deceased celebrities who earned more than $5 million in 2003.
Mark Roesler, chairman of Indianapolis-based CMG Worldwide Inc., which licenses the names and images of celebrities, says the company has contracts with more than 200 companies that market about 1,500 products with Dean's name or image.
The James Dean Fest, which runs through Sunday, will give fans a chance to embrace his legacy – and even buy a house in Fairmount where he once lived. It will be auctioned today.
Visitors from as far away as Japan and Australia are expected to join Hopper (who co-starred with Dean in "Giant" and "Rebel") and Sheen, who will introduce a documentary he narrated called "James Dean: Forever Young" that details Dean's pre-Hollywood work on nearly 40 TV programs.
Three years ago, 56-year-old Pam Crawford of Little Rock, Ark., became president of the James Dean Remembered International Fan Club, which has about 400 members – twice the number when she took over – from 20 countries.
She says Dean was so appealing because "he just seemed to be saying, 'Why should I have to do something because everyone else is doing it a certain way?'
"He kind of freed us to be ourselves because he came along at a time when everyone was very conventional. He barely combed his hair and he wore whatever he pleased, but he still looked extraordinarily good."
Local journalism is essential.
Give directly to The Spokesman-Review's Northwest Passages community forums series -- which helps to offset the costs of several reporter and editor positions at the newspaper -- by using the easy options below. Gifts processed in this system are not tax deductible, but are predominately used to help meet the local financial requirements needed to receive national matching-grant funds.
Subscribe now to get breaking news alerts in your email inbox
Get breaking news delivered to your inbox as it happens.
---