News > Idaho
Dogs on parade
Sat., June 4, 2005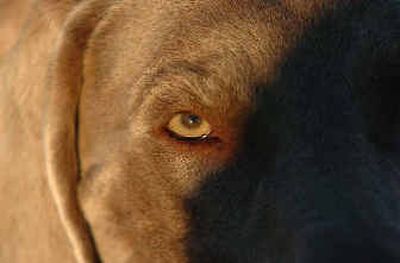 Man's love affair with dogs was everywhere last weekend at the Coeur d'Alene Dog Fanciers show at the Kootenai County Fairgrounds. This year marked the first annual American Kennel Club sanctioned "B" match with rare breeds. A rare breed is a breed that is not yet recognized by the AKC. Some unusual and some familiar breeds were to be found at the event. Kate Roberson, of Boise, has two Cardigan Welsh corgis, Wally and Go-Go. Their long torsos, short legs and bright blue eyes distinguish the breed.
A sweet three-month-old Brittany spaniel named Joe was the only sporting dog in the puppy match, so naturally he won the sporting category.
Nine-month old Elliot, a female Pomeranian, was "just having a good time," according to her owner Shelly Weimer-Martin from Spokane. Toby and Rob Brandt of Rathdrum brought their 7-month-old Akita, Ashanti. Akitas are a Japanese breed whose initial purpose was to hunt bears. The Brandt's own Rimrock Akitas and have six of the dogs.
Bug, a smooth-coat Chihuahua, at five months weighs only 2 pounds and she will grow to a whopping 3½ pounds. She lives up to her name with her huge eyes and tiny frame. Her owner, Sylvia Mattson, of Great Falls, also raises long-hair Chihuahuas.
Americans became familiar with Jack Russell terriers from watching the lovable Eddy on the television sitcom "Frasier." The dogs are now referred to as Parson Russell terriers, and Melissa White, of Boise, had her female, Rajah, and male, Luke, in fine form for competition.
For the competition, the handlers – who are sometimes the dog's owner, sometimes not – run alongside the dog as they show off for the judges. There is definitely communication going on that only the dog and handler understand. The dog gazes into the handler's eyes as if it knows this is its moment. The judges were all business, eyeballing the dogs, making decisions relatively quickly.
Among the most unusual of the rare breeds were the elegant Cirneco dell'Etnas, belonging to Loren and Nancy Lee Wight, of Potlatch, Idaho. The sleek Italian breed was once depicted on coins from Sicily before the birth of Christ. Wight had three females, 14-month-old Captivating Cleopatra, an international champion, and Dazzling Diamond and Divine Duchess, both 7-months-old. There are only 50 to 75 of the dogs in the United States, according to Wight. Jael Wight, Loren and Nancy Lee's daughter, was handling Duchess, while family friend Briyony Hatt from England was handling Dazzling Diamond. Hatt works for the Wights, helping out with their show horses, which is their main business.
Cheryl Colligan, the match chairman, raises Chinooks, a sledding breed that was originally bred for Arctic expeditions. Colligan emphasized that the rare breed show was a match, not an actual show.
"This is a unique opportunity for them to be evaluated by an AKC judge," Colligan said.
Nationally known Norwegian Elkhound breeder and judge Pat Trotter was judging, as well as hosting, seminars for various breeders.
Cheryl and Sarah Brown from Seattle brought their award-winning Chinook, Aspen Creek's Jackson Tyee, better known as Jackson. Jackson is the Chinook depicted on the AKC Web site. Cheryl Brown said he's never been trained to show, but he keeps winning. A judge once told her that it is because he's the one who could get her home in a snowstorm. Jackson won Best of Breed in 2003 and is the father of 18-month-old Taku, who belongs to Colligan.
The Australian shepherds were having their own face-off as the Australian Shepherd Club convened in a separate arena. Brad Ost was grooming Carly, a 1-year-old, brushing her and spraying doggie hair spray on her before she entered the arena. Ost's family not only raises Aussie's but they have a petting zoo in Post Falls.
Lori Friese from Naples, Idaho, was visibly nervous, as this was the first time she was showing Hisaw, her 7-month old Australian shepherd. He won in the 6- to 9-month male category, much to her delight.
Coeur d'Alene Dog Fanciers President Robin Davis said the main dog show has been held at the Fairgrounds for at least the past 12 years. She estimated 1,100 dogs would compete in the main event.
Local journalism is essential.
Give directly to The Spokesman-Review's Northwest Passages community forums series -- which helps to offset the costs of several reporter and editor positions at the newspaper -- by using the easy options below. Gifts processed in this system are not tax deductible, but are predominately used to help meet the local financial requirements needed to receive national matching-grant funds.
Subscribe now to get breaking news alerts in your email inbox
Get breaking news delivered to your inbox as it happens.
---