News > Special
He's a ready-for-prime-time player
Sat., June 4, 2005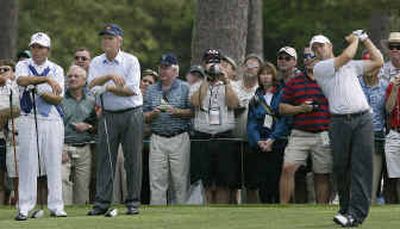 AS A YOUNGSTER, Ryan Moore often was overshadowed in baseball and basketball by older brother Jeremy. So when the UNLV golfer was paired with Phil Mickelson at this year's Masters, Moore did what he learned from his sibling rivalry – he made his own impression.
Moore unveiled a versatile power-and-touch game, averaging 280 yards off the tee, hitting 86 percent of fairways and making clutch putts to tie for 13th at 1-under-par 287.
"If he came out tomorrow" as a professional, Mickelson told reporters at Augusta National, "he'd be one of the best ball-strikers on tour."
Moore, the reigning U.S. Amateur champion, does plan to turn pro later this month, after competing at the U.S. Open at Pinehurst No. 2.
Buoyed by his finish as low amateur at the Masters – which would have been worth $135,000 – Moore then intends to embark on a path to the PGA Tour.
It is a career he has dreamed about since first playing with a little plastic club and ball and watching golf telecasts growing up in Puyallup, Wash., a suburb of Tacoma.
Moore comes from a tightknit family. They rented a house in Augusta, Ga., and followed his every shot at the Masters: Mike and Roxane, married 31 years, and Jeremy, 26, Jason, 17, and Alyssa, 15, all sports-oriented like their brother Ryan.
His father, a real estate broker and developer, owns and operates Classic Golf Club in Spanaway, Wash., where Moore honed his game. Jeremy now helps his dad manage the club, and both men plan to manage Moore's professional career.
Before solely pursuing golf, Moore batted cleanup and played third base and left field in baseball and point guard in basketball. But he gravitated to golf only and became one of the USA's coveted collegiate recruits.
"Golf was more fun and challenging than everything else," Moore says. "I loved how it's all on you. There's no excuses and you can't blame it on anybody else."
And always, Mike Moore says, his son tried to emulate Jeremy.
Ryan "was talented and focused," says his dad, a scratch golfer. "Jeremy was gifted … just a really good athlete. Ryan looked at things through his older brother's eyes, like, 'Well gee, if Jeremy can do that, so can I.' "
That bravado was never more evident than last August at the U.S. Amateur championships. The stress and pressure had reached a crescendo for Mike and Roxane Moore as they followed their son down the fairway. He was four down with 10 holes to play, and even they figured the deficit hung near the edge of insurmountable.
Moore noticed the concerned expression on his mother's face and — after hitting an approach shot – unexpectedly turned to reassure his parents.
"Mom, you look nervous," he said.
"Well, I am. … You're four down!" she replied.
"Mom, relax, don't worry about it. I've got this all under control. I'm gonna win."
Not necessarily surprised by the super-charged confidence, Moore's dad was amazed when his son won the last four holes, three with birdies, to stun Luke List 2-up in the 36-hole match play final at Winged Foot in Mamaroneck, N.Y.
"He just hangs in there and keeps believing in himself," the elder Moore says.
Moore's U.S. Amateur victory was the centerpiece of what's seen as the greatest season by an amateur golfer since Bobby Jones captured the Grand Slam 75 years ago.
Moore is believed to be the only player to hold the U.S. Amateur, U.S. Public Links, Western Amateur, Sahalee Players and NCAA individual titles at the same time.
"The momentum just kept building. Everything he got into, he won. It was just amazing," says UNLV coach Dwaine Knight. "Once he gets comfortable, it's like, boom, he starts to dominate."
Moore has arranged the trophies on a mantel at his condominium in Las Vegas, where the first touch of dust already has settled on them.
"I don't ever think about it, until I'm in town and walk downstairs in the morning and see them," Moore says. "It's something I take a lot of confidence from, playing so well and winning, and showing I'm capable of that. But it's not something I dwell on too much. I move on pretty fast to my next step."
Local journalism is essential.
Give directly to The Spokesman-Review's Northwest Passages community forums series -- which helps to offset the costs of several reporter and editor positions at the newspaper -- by using the easy options below. Gifts processed in this system are not tax deductible, but are predominately used to help meet the local financial requirements needed to receive national matching-grant funds.
Subscribe now to get breaking news alerts in your email inbox
Get breaking news delivered to your inbox as it happens.
---