News > Idaho
Lakeland senior chose Marines for the challenge
Sat., June 4, 2005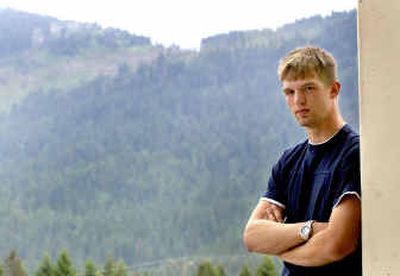 Lakeland High School senior Lance Carr believes he has the right stuff for the Marine Corps. Carr, 18, is also looking long-term to officer's training or school. He leaves June 20 for Camp Pendleton in San Diego for boot camp, which will be his first trip to California.
"I know it will be tough, but the reason I picked the Marines is because I knew it'd be a challenge," he said.
This young man is an athlete, lettering three years in football and two years in baseball.
"Lance is a hard worker, extremely respectful, with an appreciation for history," said Lakeland counselor Frank Vieira.
Curt Carr, Lance's father, has been the vice-principal at Lakeland since 1999. He and his wife, Lara, are supportive of their son's plans. Lance said his mom is like every other mom – worried.
"I see what's going on over there (Iraq), and it makes me want to go over there even more," Lance Carr said. "I think I can do something over there."
He will spend 12- to 13 weeks at Camp Pendleton, then go to Boise where he will study history at Boise State University. He would be in the reserves after that, but he's thinking about going on active duty after the school year, or going to an officer's training school. If he chooses officer's training, he would continue with his studies, attending officer's training in the summers between semesters. He would like to teach after he gets out of the military.
"When I graduate from college, I should be commissioned as an officer," Carr said.
His father said that the Marines will pay for Carr's college if he stays in the officer's training, but then they expect him to stay.
"I'm proud of him," Curt Carr said. "At his age he knows what he wants to do. I respect his decision. The people who actually fight, they're the ones that have to deal with it more than anybody else, so there's always a respect there. I don't begrudge anybody in the service. Most kids in high school don't know what they want to do. He knows what he's going to do. Knowing what it's like to be a soldier makes you a better officer."
Lance Carr is more interested in being on the ground rather than in the air. His maternal great-grandfather served in World War II and was a prisoner of war in the Philippines. His paternal great-grandfather was a World War I veteran.
He said he made his mind up as early as elementary school that he wanted to serve his country.
"I understand discipline," he said. "It's fine with me. I'm locked in for six years in the reserves."
Lara Carr was born and raised in St. Maries. Curt Carr taught and coached there for 17 years, which is where he and Lara met. The family moved to Rathdrum in 1999 when he was hired at Lakeland, so Lance Carr started school in the seventh grade in Rathdrum.
Carr has been a senior class officer at Lakeland and holds a 3.2 grade-point average.
Local journalism is essential.
Give directly to The Spokesman-Review's Northwest Passages community forums series -- which helps to offset the costs of several reporter and editor positions at the newspaper -- by using the easy options below. Gifts processed in this system are not tax deductible, but are predominately used to help meet the local financial requirements needed to receive national matching-grant funds.
Subscribe now to get breaking news alerts in your email inbox
Get breaking news delivered to your inbox as it happens.
---