News > Spokane
Longtime Jesuit educator, leader at GU dies
Sat., June 4, 2005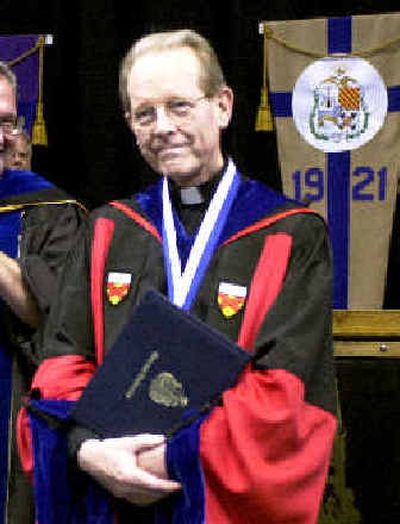 The Rev. Patrick J. Ford, a Jesuit priest who devoted his life to Gonzaga University, died Friday morning of a heart attack. He was 63.
An advocate for advancing higher education nationwide, Ford was best known for his many years of leadership at Gonzaga, where he spent 27 years as a professor and administrator. In 2001, he stepped down as academic vice president to become executive assistant to the provincial of the Oregon Province of the Society of Jesus in Portland.
But he always considered Spokane and Gonzaga his home, said the Rev. John Whitney, the Jesuit provincial and leader of the roughly 250 Jesuits in the Pacific Northwest.
Last month during Gonzaga's commencement ceremony, Ford received the DeSmet Medal – the university's highest honor, bestowed upon a select few for their work and dedication to the community.
It was perhaps one of his proudest moments, said Whitney – not because of his own achievement but because he was gratified to be part of Gonzaga, an institution that he held close to his heart.
"He just beamed that day," said Whitney. The provincial recalled how Ford wore the medal around his neck and spent the morning embracing friends.
"It's about these people that I've had the privilege to be with," Ford told Whitney.
Those who knew him have described him as a man of few words, but whose words had tremendous impact. They also said he was a guy who went with the flow, who never took himself too seriously. On many occasions, he was known to have said: "There are two sure things in life – there is God and I'm not he."
"Not only was Pat intelligent and witty, he had a very tender heart," said Sandra M. Wilson, chairwoman of Gonzaga's doctoral program in Leadership Studies who has worked at GU for 24 years.
Wilson, who was good friends with Ford, fondly recalled how the priest would take faculty members on boat rides at Hayden Lake and cook meals for them at the Jesuit retreat. She also remembered a time when Ford celebrated a Mass at St. Aloysius.
"When he sang the Mass, his voice was like that of an angel," Wilson said. "I was astounded."
Although he was still the socius, the spiritual leader and second in command at the province, Ford returned to Spokane three months ago shortly after lung cancer had spread to his back and other parts of his body.
Whitney said Ford had been suffering for some time and that his cancer was a result of the treatments he received 24 years ago for Hodgkin's disease. The late socius also suffered from diabetes and other illnesses.
A 1966 graduate of Gonzaga who received his master's at the university a year later, Ford grew up in Spokane's Logan Neighborhood and attended Mass every day at St. Aloysius Church, where he also went to school.
In an article published four years ago in the university's quarterly publication for alumni and friends, Ford recalled how Jesuit priests from Gonzaga would stop by their house to visit his parents. He knew he wanted to be a priest, too, but couldn't recall when he first became aware of his vocation.
As a college student, Ford drove John F. Kennedy from the Coeur d'Alene airport to a speaking engagement at the university, just months before Kennedy was elected president, according to the Gonzaga article.
Ford joined the Jesuits in 1960 and was ordained in 1974 shortly after earning a doctorate in administration and policy analysis from Stanford and a master of divinity degree from the Jesuit School of Theology at Berkeley.
Besides his devotion to Gonzaga and Jesuit education, Ford also was known for his ability to juggle many obligations. His office in Portland was always covered with paper, Post-It notes, cards with phone numbers scribbled on the back. It was a mess, Whitney acknowledged, but it also was organized chaos since Ford "was saying 'yes' to 20 different requests at the same time and managing to get them all done."
Ford also took the lead on working with victims of clergy sex abuse, Whitney said. He wanted people to find healing and offered them genuine kindness and love, Whitney said.
Ford died on the day when Catholics celebrate the Feast of the Sacred Heart of Jesus, Whitney noted. Ford would have laughed and enjoyed the humor and irony of the timing, he said.
"More people thought of Pat Ford as their best friend than anyone else I knew," said Whitney, who spent the morning grieving among Ford's books and other belongings in Spokane's Jesuit House.
He taught him many things, he said, but Ford's greatest gift was his example of "deep spiritual joy" – a happiness "that acknowledged the crosses and the pain of life but also saw that love, grace and hope are stronger."
Local journalism is essential.
Give directly to The Spokesman-Review's Northwest Passages community forums series -- which helps to offset the costs of several reporter and editor positions at the newspaper -- by using the easy options below. Gifts processed in this system are not tax deductible, but are predominately used to help meet the local financial requirements needed to receive national matching-grant funds.
Subscribe now to get breaking news alerts in your email inbox
Get breaking news delivered to your inbox as it happens.
---