News > Features
LOW sessions drive home fun of RV lifestyle
Sat., June 4, 2005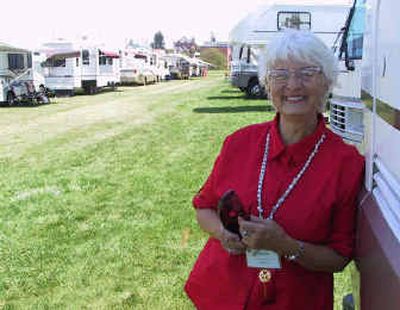 'We just rolled in yesterday and I was relaxing out on the deck," said Gaylord Maxwell, veteran RV author and founder of the RV Life on Wheels Conferences. "It's absolutely gorgeous here."
Maxwell, his wife, Margie, and their Maltese-mix pooch, Suzie, split their time between Deary, Idaho, and their winter roost in Yuma, Ariz.
They had recently arrived home from Bowling Green, Ky., after wrapping up the first of four LOW conferences.
The next, and largest, conference takes place on the University of Idaho campus in Moscow from June 26 to July 1. The final two are set for August in Bethlehem, Pa., and Des Moines, Iowa.
For those of you who are not familiar with the LOW conferences, they are unique RV gatherings packed with scores of informative seminars—without one sales pitch.
"All we want to do is educate people about the RVing lifestyle and technical aspects of their rigs," says Maxwell.
RVers can choose from a vast array of 90-minute classes on the "how to," "what to" and "where to" of RVing.
Instructors are "cream of the crop" experts in their fields. Among them are authors of RV lifestyle books and travel publications including Joe and Vicki Kieva, Marilyn Abraham and Sandy MacGregor, Dave and Sandy Baleria, Mike and Terri Church, and Sharlene "Charlie" Minshall.
Minshall, an accomplish author of six RV-related books, was widowed at 45 and has been solo RVing for 19 years.
"Charlie is a wonderful lady and an inspiration to everyone who is thinking about seeing North America," said Maxwell.
Minshall has traveled from below Mexico City to Prudhoe Bay, Alaska, and from Newfoundland, Canada, to the tip of Baja, Mexico.
"It has been an amazing journey," said Minshall in an e-mail, "and it is great fun to share these experiences with those who are just starting."
Minshall teaches five courses including "Full-time RVing: If I can do it, you can do it."
"I've been there, I've done that," she said. "You don't have to be limited by your age. You are only limited by your desires and your health."
LOW conference information
The registration fee of $199 per person covers five days of courses, an Idaho Repertory Theatre ticket and evening entertainment.
A $130 RV fee includes 30 AMP electrical hookups and water services. People who wish to dry camp (no power or water) on campus will be charged a $25 parking fee.
Those attending who do not yet own RVs can stay in nearby motels. Many extracurricular activities are available both before and during the event.
To register or to find answers to your questions, call toll-free (866) LOW-GOGO (866-569-4646); e-mail Peggy Waterman at peggyw@uidaho.edu; or write to Life on Wheels, UI Conference Services, P.O. Box 443224, Moscow, ID 83844-3224. For detailed information about all the course offerings, check www.rvlifeonwheels.com.
Other information
Sharlene Minshall can be reached at Box 1040, Congress, AZ 85332; e-mail silvergypsy@earthlink.net; or visit her Web site at www.full-time-rver.com.
Minshall books, all published by Gypsy Press, include "RVing Adventures with the Silver Gypsy" ($14.95), "RVing Alaska and Canada" ($16.95), "Full-Time RVing: How to Make it Happen" ($14.95), "In Pursuit of a Dream" ($8), "Freedom Unlimited, The Fun and Facts of Full-timing" ($9) and "RVing North America, Silver, Single, and Solo" (out of print).
Wheel comment
Last Saturday's Wheel Life column talked about "boondocking" (parking) overnight for free at casinos. Ardell Filip of Ephrata, Wash., sent in an e-mail commenting on the etiquette of using slide outs when boondocking.
"No RVer should extend slides when spending the night in a retail parking lot such as a Wal-Mart," wrote Filip.
"My husband and I have lived full time for over nine years. We have traveled to all the states, many more than once, and have seen more and more Wal-Mart parking lots closed to overnight parking," she said.
"In quite a few cases we have talked to store managers about the overnight parking restrictions and have been informed that the prohibition is the result of city ordinances. The managers explained that citizens felt the lots were being used for 'camping' and not as a place to stop and get a night's sleep," she said.
To read Filip's complete letter go to the Wheel Life blog page online at www.spokesmanreview.com/blogs/wheellife.
A good rule of thumb – always ask the property manager exactly what you can do when you park overnight on private property, whether it is a casino, Wal-Mart or Flying J.
Local journalism is essential.
Give directly to The Spokesman-Review's Northwest Passages community forums series -- which helps to offset the costs of several reporter and editor positions at the newspaper -- by using the easy options below. Gifts processed in this system are not tax deductible, but are predominately used to help meet the local financial requirements needed to receive national matching-grant funds.
Subscribe now to get breaking news alerts in your email inbox
Get breaking news delivered to your inbox as it happens.
---