News > Idaho
Matt Harlow goes to Washington
Sat., June 4, 2005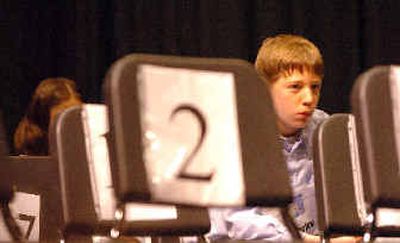 Matt Harlow's journey to Washington, D.C., started in his English classroom and a vaporetto helped bring him there. A vaporetto is a steamboat used as a water bus in Venice, Italy. Matt had no idea what it was, but felt confident in spelling it correctly at the North Idaho regional spelling bee on March 19.
"I just guessed because it was easy to sound out," he said.
That final word won him the competition, which included 55 champion spellers from Idaho's five northern counties. Matt is one of two Idaho students who attended the 78th Annual Scripps National Spelling Bee Wednesday and Thursday in Washington, D.C. The trip was the culmination of several successful bees for Matt. He first had to win his eighth-grade English classroom bee at Canfield Middle School, then the school bee and county bee.
Matt is no newcomer to spelling bees. Last year he made it to the regional competition, but struck out on "blunderbuss." He thought it had one "s." This year he studied more, he said.
One of his prizes from the regional bee was a 2,662-page, three-inch thick Webster's Third New International Dictionary. This serves as his study guide for the national bee. Another 23,000-word list was available from the spelling bee Web site, but his mother, Sherril, was able to print only 700 of those pages.
"I ran out of ink," she said.
Matt spent a little time each day studying words, but relies much on a natural knack for spelling.
"I see a word and I don't forget it," he said.
He reads every night for about an hour and uses tips from his mother at competitions, such as writing the word out with his finger or asking for the origin of an unfamiliar word. He knew he wouldn't be as prepared for the national bee as other competitors, who have most likely been studying since last year.
"He has a life outside of spelling," Sherril said.
Just as important to Matt is his love of sports. He plays football, basketball, baseball and tennis. He participated on an all-stars baseball team and was a member of a Little League state championship team in 2002.
Before moving four years ago from California, Matt took part in a scholar athlete program in California. It required kids to write an essay and demonstrate good grades along with their sports achievements. It left an early impression.
"It showed me that you can be good at sports, but to get somewhere in life you need good grades and that gets you rewarded, too," Matt said.
Matt will attend Coeur d'Alene High School next year and looks forward to elective classes, especially drafting since he plans to become an architect. He anticipated exploring the Air and Space Museum and sightseeing while in Washington with his mother, who is included in the all-expense paid trip sponsored by Hagadone Newspapers.
Matt expected to study on the plane, but was trying not to worry too much about winning the national bee.
"If I don't do well, at least I get the experience," he said.
Local journalism is essential.
Give directly to The Spokesman-Review's Northwest Passages community forums series -- which helps to offset the costs of several reporter and editor positions at the newspaper -- by using the easy options below. Gifts processed in this system are not tax deductible, but are predominately used to help meet the local financial requirements needed to receive national matching-grant funds.
Subscribe now to get breaking news alerts in your email inbox
Get breaking news delivered to your inbox as it happens.
---