News > Nation/World
Mom wants more aid in search for daughter
Sat., June 4, 2005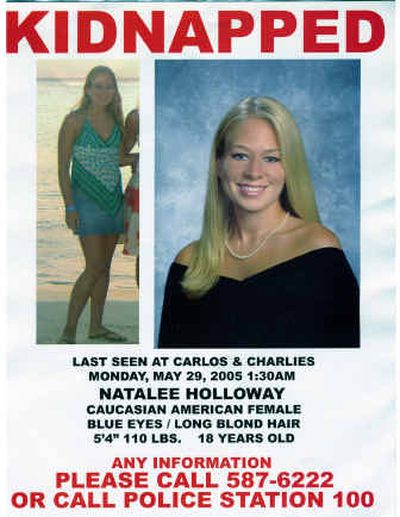 ORANJESTAD, Aruba – The mother of a missing Alabama teenager tearfully called for more help from U.S. authorities Friday in the search for her daughter, who disappeared on the last day of a high school graduation trip to this Caribbean island.
Police and volunteers combed beaches and scrubland for any sign of Natalee Holloway, putting up posters with a photo of the 18-year-old honor student. The wording on the posters was changed Friday to add a photo caption saying: "Kidnapped since 1:30 a.m. May 30."
Authorities say there is no evidence Holloway was abducted, but police commissioner Jan van der Straaten said "after four or five days you are afraid a crime has been committed."
Aruba's coast guard also searched surrounding waters, an indication authorities are considering the possibility she might have been taken off the island. Police found her passport in her hotel room.
Holloway was on a five-day excursion with 124 seniors and several chaperones from Mountain Brook High School, near Birmingham, Ala.
The teenager had just graduated and earned a full scholarship at the University of Alabama, said her uncle Paul Reynolds, who came from Houston to help search.
Aruba police and the Dutch military were leading the effort with assistance from the FBI. A $50,000 reward was offered for information leading to her rescue, said Myrna Jansen, director of Aruba's tourism office.
Holloway's mother, Beth Holloway Twitty, urged the Dutch government Friday to request more help from the United States.
"We all have a common goal to find Natalee so we can bring her home," Holloway Twitty told a news conference, before leaving the room in tears.
State Department spokesman Sean McCormack said U.S. officials "are making sure that we provide all possible assistance to the family and local authorities."
Holloway spent the last night of her holiday at a bar and restaurant in the capital, eating and dancing with classmates and residents. She was last seen sometime between 1 a.m. and 2 a.m. Monday and didn't show up for her flight home hours later.
Police said they questioned and released three Aruban students who said they dropped Holloway off early Monday at the Holiday Inn where she had been staying just outside Oranjestad.
Hundreds of volunteers, soldiers and police scoured sand dunes, beaches and scrubland, checking each area searched on a map grid.
Last year, there was one murder on Aruba, an island of 72,000 people, compared to two murders this year, police said. The two murders involved drug addicts who died in knife fights.
Local journalism is essential.
Give directly to The Spokesman-Review's Northwest Passages community forums series -- which helps to offset the costs of several reporter and editor positions at the newspaper -- by using the easy options below. Gifts processed in this system are not tax deductible, but are predominately used to help meet the local financial requirements needed to receive national matching-grant funds.
Subscribe now to get breaking news alerts in your email inbox
Get breaking news delivered to your inbox as it happens.
---