News > Voices
Mother, son fill works with emotion
Sat., June 4, 2005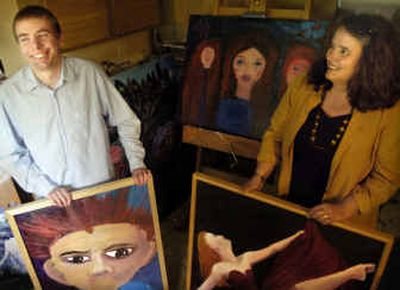 Mother and son Sandy and Hans Haupt create paintings that stem from the expressions of life.
"I grew up in a household where the kids could stay up past bedtime only if they were drawing," said Sandy, 50. She has carried over the value of artistic expression into her own household. Her son, Hans, 23, is the recipient of such teachings.
The question of "is it nature or nurture" can come into play here. Hans began drawing before he could even walk. It could be because art supplies were always close at hand, or it could be heredity.
Hans has a difficult time communicating. Diagnosed as developmentally disabled, he is not good with words. Before he was 3, he had uncontrollable seizures and some high fevers. Brain damage was the outcome.
Lacking the words or means of expressing himself, Hans uses a paintbrush and acrylic paint to make his thoughts concrete.
Sandy prepares a canvas in order to begin her own painting but, before she can begin, Hans has already laid down color on the blank canvas. Hans is quick, and his thought process is continuous.
Hans paints in their Valley basement studio. "Each time I pass through the studio," said Sandy, "a new painting covers the one I saw only the day before."
Layer upon layer, many paintings lie beneath the final product. Sandy has to decide for him when the piece is done. "I grab the painting and frame it before he can cover it with a new one." In a sense, the frame serves as a period, or exclamation mark, at the end of a sentence. He then begins a new one.
His pieces represent pure emotion and thought; people, places and things derived out of the desire to communicate. An onlooker could decipher the messages in many different ways.
A 2003 University High School graduate, Hans has found his role. Presently he is looking for a job, hopefully in a quiet environment. "He is a hard worker," says Sandy.
Sandy, a graduate of the University of Iowa, has a bachelor's in art education. She has been a Valley resident for the past 13 years. It wasn't until she moved here that she felt secure enough to focus on her art. They moved a lot; there was barely enough time for her to catch her breath.
Her style of painting is impressionistic; it looks realistic from across the room but different close up. One piece titled "Kick up Your Heels," shows a woman dancing. She wears a full red skirt that depicts a flower in bloom. "I like the architecture of flowers," she said.
Sandy enjoys helping people find their own artistic niche. She has served on boards and held a lot of chairs in many organizations including the Girl Scouts, the ARC of Spokane and the PTA.
When the Spokane Valley City began to form, Sandy decided to become involved. The Spokane Valley Arts Council was just the place. Sandy serves as the council's secretary.
Sandy is invested in trying to get the council to be a big part of Spokane Valley. In the future, it could serve the needs of artists in search of the forum in which to express themselves, including Hans. It could also serve the needs of many individuals who lack any kind of exposure to the arts.
"Art should be valued," says Sandy, "it is a powerful thing."
Local journalism is essential.
Give directly to The Spokesman-Review's Northwest Passages community forums series -- which helps to offset the costs of several reporter and editor positions at the newspaper -- by using the easy options below. Gifts processed in this system are not tax deductible, but are predominately used to help meet the local financial requirements needed to receive national matching-grant funds.
Subscribe now to get breaking news alerts in your email inbox
Get breaking news delivered to your inbox as it happens.
---