News > Features
Party Passion
Sat., June 4, 2005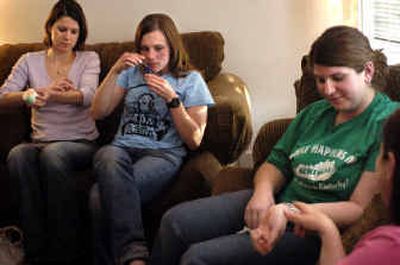 "Your left hand is your tasting hand, your right hand is your non-tasting hand," the hostess told the women lounging on couches in a Spokane living room.
Not advice given by most hostesses at most parties, but then, this isn't most parties.
This is a Passion Party.
Think of a Tupperware party. Now replace the plastic bowls with personal lubricants, massage oils and sex toys with names like Jelly Tropicana, Escalating Elephant and Nubby G.
Oh my, what would Mary Kay think?
She might be appalled by the product line, but she probably couldn't help but be impressed by the company's success.
Several similar businesses — Fascinations, Edible Ecstasy, Temptations Parties — host in-home adult-toy and lingerie parties. But Passion Parties is by far the largest.
The 11-year-old company is currently moving its corporate headquarters from San Francisco to Las Vegas, where it will double the size of both its warehouse and its office space, says company president Pat Davis.
Profits have grown 50 percent each year for four consecutive years, Davis says. (The company is privately held and doesn't release sales figures.) There are now about 8,000 sales consultants in the United States and Canada.
"Women needed a comfortable, safe environment that they could go and seek education about their sex lives and their relationships," says Davis, a grandmother of three who herself has been married 43 years. "It needs to be done with a giggle. It needs to be done with fun."
And so that is where the tasting hand and the nontasting hand come in on this warm spring night in North Spokane.
Cynthia Vick, a Passion Parties consultant, arranges her wares on a cloth-draped table as the young women arrive. A blender whirs. Music plays. Hors d'oeuvres are nibbled.
Pheromone-spiked lotions in squat bottles line the front of the table. There's a deck of Fore Playing Cards and some Dirty Dice. There's a purple, nubbly mitten that resembles a sea creature: The Super Deluxe Love Smitten ("feel 100 butterfly wings tickling your skin," the catalog gushes).
And behind a piece of blue velvet are the big-ticket items, the bright-colored, battery-operated sex toys that will soon get squeals from the party-goers.
Vick keeps those goodies hidden while she gives her pitch for the other products.
"Otherwise you have too much distraction," she says.
Vick is 30 years old, perky, with an easy, business-like shtick that could work just as well behind a department store make-up counter. She has been a Passion Parties consultant for two years, starting not long after attending her first party. There are about a half dozen consultants in this area, Vick says.
She puts on these parties at area homes about once a month, she says, and makes enough to help pay her way through Washington State University while she earns a teaching degree.
She also works at an animal hospital, in preparation for eventually becoming a veterinarian.
"I make more in one party typically than I do in a week at the vet," Vick says.
Plus, she says, "It's fun. You get to talk about sex all night."
She puts the ladies now assembled in the living room at ease, dabbing a pouf of white chocolate Passion Powder on the back of each woman's hand with a feather.
"I taste so good. Yum," says Regi Schultz, a 28-year-old Spokane woman who's getting married this fall.
Vick tells the women they can dab the powder all over themselves and make their partners find it.
"Not only is he rewarded, but so am I," she says.
After Vick discusses all of the products, and passes each one around the group, the women are invited one-by-one into a side room to place their orders.
"All the ordering is completely confidential," Vick says. "The only person who knows what they've ordered is me."
There remains a stigma around these in-home, adult-toy parties. Many of the women at the Spokane gathering asked not to be named or photographed in the newspaper.
A Texas woman, who is a Passion Parties consultant, was arrested a couple of years ago on obscenity charges after selling sex toys to undercover officers. The charges were later dropped.
The Direct Selling Association, the trade group representing the home-party industry, won't allow Passion Parties and its ilk to become members, spokeswoman Amy Robinson says.
"It's in our bylaws that that product line is not eligible for membership," Robinson says.
And Davis says there have been times when a hotel wouldn't let the company book a meeting there or when a vendor wouldn't do business with them.
Davis hopes to chip away at the negative perception of her business.
"The biggest thing I've tried to do as president is make sure our company is not tawdry," she says. "We don't go into the fetish. We don't go into erotica. We don't go into S & M … I want to make sure our image and mission is real clear. It's a very fine line and you could cross over it real quick."
In fact, more than half of the company's sales come from the lotions and potions, while the phallic sex toys comprise just 17 percent, Davis says.
Judy Meuth, a senior instructor in the Women's Studies department at Washington State University, likes the women-helping-women aspect of the in-home adult parties.
But Meuth, who has never been to one of the parties, says she would want to make sure that the products are geared toward fulfilling women, not simply making their partners happy.
"We think that women ought to not be doing this," she says. "We think they shouldn't have an interest in sex, which is crazy. If men were doing it, we would think men are going to be men. It plays into the idea that it's natural for men to be interested in sex and not natural for women to be interested in sex."
Davis says she looks for products that will "help the woman to learn her own body."
"Before she can teach her partner what he needs to do, she needs to learn her own body," Davis says.
The friends at the recent Passion Party in Spokane ate, drank and were plenty merry as they played with vibrating bath loofahs and tested minty Tasty Tease cream.
Most said they would never feel comfortable buying things in a sex shop, but they appreciated the privacy and good-humored atmosphere of the party.
Plus, they had fun sharing laughs over some of the more elaborate, technologically advanced toys.
"I've never been to anything like it," Schultz said after the sales presentation. "I didn't know there was so much stuff. How do they come up with these things?"
Local journalism is essential.
Give directly to The Spokesman-Review's Northwest Passages community forums series -- which helps to offset the costs of several reporter and editor positions at the newspaper -- by using the easy options below. Gifts processed in this system are not tax deductible, but are predominately used to help meet the local financial requirements needed to receive national matching-grant funds.
Subscribe now to get breaking news alerts in your email inbox
Get breaking news delivered to your inbox as it happens.
---