News > Idaho
Post Falls senior 'grew up on war hero stories'
Sat., June 4, 2005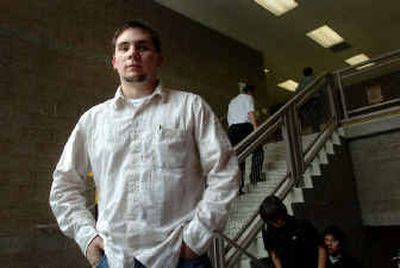 He was raised to love his country, feels a need to foster patriotism, and believes it is his duty to defend this country's freedoms.
Since he was 4 years old, Aaron Willeford has always known that one day he would join the military. That day is quickly approaching as he reports for active duty on July 6.
After checking all his options, Willeford decided the Navy was the best way to serve his country. Ultimately he would like to become a Navy pilot, but for now he will study to become an aviation hydraulic engineer.
"My dad has always stressed respect for the American flag and what it stands for," Willeford says. "Our country needs dedicated people to defend our freedoms."
Willeford graduates Thursday from Post Falls High School and keeps an extremely busy schedule. Besides working 20 hours a week at Center Partners as a customer service representative, he is an assistant Scoutmaster of Post Falls Troop 206.
Although he is the first person in two generations, on both sides of the family, to enlist Willeford says "he grew up on war hero stories."
His grandfather, Ottis C. Willeford, enlisted in August 1942, and received an honorable discharge in January 1946. Ottis Willeford was a tech sergeant 4th grade with the 736th Antiaircraft Gun Battalion, and received the WWII Victory Medal, Good Conduct Medal, Asiatic Pacific Campaign Medal and the Philippines Liberation Ribbon.
After eight years as a Boy Scout, Aaron Willeford received his Eagle Scout rank in December 2004. For his Eagle Scout Leadership Service Project, he constructed a 135-foot-by-5-foot handicapped-accessible concrete walkway from the picnic area to the bathroom at Post Falls' Corbin Park. It took him 27 hours of planning and 141/2 of labor.
According to Willeford, 9- to 14-year-olds are "kind of lost" today. They don't know how to behave or how to act. He believes that the "Aims of Scouting," which emphasize character development, citizenship training, and personal fitness, give young people values to live by.
"I like Scouting because it teaches morals, values, and integrity that you live by for the rest of your life," Willeford says.
Willeford also was a member of the high school swim team his junior and senior years, competing in various events. As a certified Red Cross lifeguard Willeford has spent four summers working at Camp Cowles in Newport, Wash., where he was an assistant director of the waterfront.
"I have always loved the water, and am hoping to eventually volunteer for the Navy Search and Rescue team."
SAR training consists of rigorous physical training and intensive pool work coupled with first aid and academic studies. Team members participate in water rescues where the Navy's training helps to prepare them both mentally and physically to deal with life-threatening emergencies.
Most of Willeford's friends are both excited and scared for him. Three of his friends have joined the Marine Corps.
"They don't want to talk about it much, but for the most part they are supportive," Willeford says.
Willeford attributes his success to his parents, Rod and Mary, who have been very supportive of his decision to join the Navy; family friend, Mike Holehan; Scoutmasters Tracy Cole, Kevin McGrath, Rex Grace, and his Scouting mentor, Jim Graham. He also acknowledges his chemistry teacher, Mr. Meyer, and his math teacher, Ms. Smith, who has become like "a second mom."
Willeford's advice to people is to persevere in whatever they attempt to do.
"Whatever you choose to do – remember it is supposed to be a challenge – it might take a while, but the pay off in the end is well worth it," Willeford says with a big smile.
Local journalism is essential.
Give directly to The Spokesman-Review's Northwest Passages community forums series -- which helps to offset the costs of several reporter and editor positions at the newspaper -- by using the easy options below. Gifts processed in this system are not tax deductible, but are predominately used to help meet the local financial requirements needed to receive national matching-grant funds.
Subscribe now to get breaking news alerts in your email inbox
Get breaking news delivered to your inbox as it happens.
---