News > Nation/World
Rumsfeld blasts China's buildup
Sat., June 4, 2005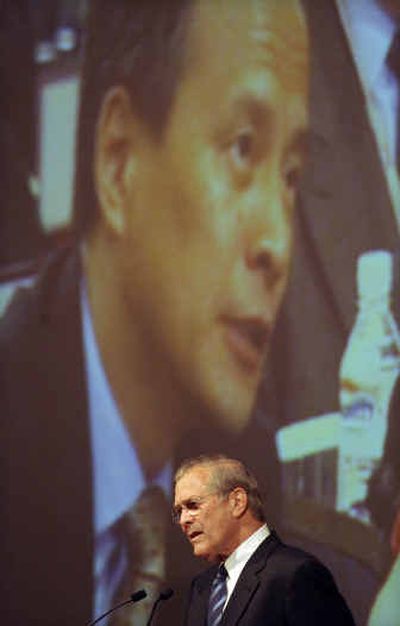 SINGAPORE – Defense Secretary Donald H. Rumsfeld issued a blunt challenge to China at a regional security conference Saturday, saying Beijing must provide more political freedom to its citizens and questioning its recent military buildup.
Rumsfeld said the Pentagon's annual assessment of China's military capabilities shows China is spending more than its leaders acknowledge, expanding its missile capabilities and developing advanced military technology. China now has the world's third-largest military budget, he said, behind the United States and Russia.
"Since no nation threatens China, one wonders: Why this growing investment? Why these continuing large arms purchases?" Rumsfeld said at the conference organized by the International Institute of Strategic Studies.
The speech represented a direct verbal confrontation with China, given that Beijing sent representatives to the annual conference this year after skipping last year's event. Officials from Taiwan, a self-governing island that China regards as a renegade territory, were not invited.
The head of the Chinese delegation to the conference, Cui Tiankai, director of the Foreign Ministry's Asian bureau, sharply questioned Rumsfeld during a session after the speech.
"Do you truly believe that China is under no threat by other countries?" Cui asked. "Do you truly believe that the U.S. is threatened by the emergence of China?"
Rumsfeld said he does not think any country threatens China but that the U.S. does not see China as a threat.
Afterward, Cui told the Associated Press that China wants to cooperate with other countries on security.
"Since the U.S. is spending a lot more money than China is doing on defense, the U.S. should understand that every country has its own security concerns and every country is entitled to spend money necessary for its own defense," Cui said.
China has said it will attack Taiwan if the island tries to declare independence, and it repeatedly calls on the United States to stop selling weapons to Taiwan. Beijing denounced a joint U.S.-Japan statement earlier this year saying the two allies shared the objective of a peaceful resolution of the Taiwan issue.
The United States is urging the European Union to keep in place its ban on selling weapons to China. Washington argues that any European weapons sold to China could be used in a conflict over Taiwan.
"I just look at the significant rollout of ballistic missiles opposite Taiwan, and I have to ask the question: If everyone agrees the question of Taiwan is going to be settled in a peaceful way, why this increase in ballistic missiles opposite Taiwan?" Rumsfeld said.
Rumsfeld also questioned China's government, saying political freedom there has not kept pace with increasing economic freedom.
"Ultimately, China will need to embrace some form of open, representative government if it is to fully achieve the benefits to which its people aspire," he said.
The speech was the strongest criticism Rumsfeld has leveled at China since he took the helm at the Pentagon in 2001.
The previous low point was in April 2001, when a U.S. surveillance plane and a Chinese fighter jet collided in midair, forcing the American plane to land in China. The government released the crew of the Navy plane 11 days later.
Rumsfeld prodded China to use its influence with North Korea to help restart six-nation talks over Pyongyang's nuclear weapons programs. Those talks have been stalled for a year, and U.S. officials worry North Korea – which declared itself a nuclear power earlier this year – may be preparing to test a nuclear bomb.
The defense secretary had even harsher words for North Korea, quoting a European doctor who called the reclusive communist country "a living hell" for all but its elite.
"People there don't have enough food," Rumsfeld said in response to a question after the speech. "There are concentration camps with large numbers of dissidents."
Rumsfeld said North Korea is a worldwide threat because of its record of selling missile technology and other weapons.
"One has to assume that they'll sell anything, and that they would sell nuclear weapons," Rumsfeld said.
Similar U.S. criticism of North Korea has sparked an angry response from Pyongyang, which justifies its nuclear programs by saying Washington has a "hostile policy" against it. The state-run Korea Central News Agency this week called Vice President Dick Cheney a "bloodthirsty beast" for saying that North Korean leader Kim Jong Il was irresponsible.
President Bush and other administration officials say the U.S. has no intention of attacking North Korea.
Tensions between the United States and North Korea have been rising in recent months. Last week, the Pentagon suspended its only contact with North Korea – efforts to search for the remains of missing servicemen from the Korean War. U.S. officials said they could not guarantee the search teams' safety in remote areas.
The United States also announced it was sending 15 F-117A Nighthawk stealth fighters to South Korea for what the Pentagon called a long-planned training mission. North Korea said the move was a preparation for war.
Local journalism is essential.
Give directly to The Spokesman-Review's Northwest Passages community forums series -- which helps to offset the costs of several reporter and editor positions at the newspaper -- by using the easy options below. Gifts processed in this system are not tax deductible, but are predominately used to help meet the local financial requirements needed to receive national matching-grant funds.
Subscribe now to get breaking news alerts in your email inbox
Get breaking news delivered to your inbox as it happens.
---