News > Nation/World
Russian lake swirls away from village
Sat., June 4, 2005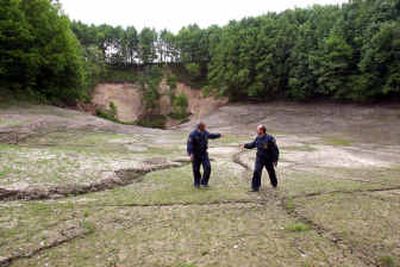 BOLOTNIKOVO, Russia – For as long as anyone can remember, White Lake had been the local swimming and fishing hole. Deep, cold, fed by underwater springs, the lake regularly gave up carp as fat as birch trees. A kid could cannonball into its depths from the overhanging willows and never hit bottom.
And then one recent morning, the lake was simply gone.
Fyodor Dobryakov was the first to see it – or not see it, as it were. The 74-year-old was heading down to the lake early one recent morning, expecting to see the first fish emerging after the spring melt. Instead, all he saw was a narrow crust of ice clinging to the shore. Everything else was gone, or almost gone.
"The ice was just hanging over an empty lake. I heard a noise, and when I looked right, I saw there was an abyss, and the water was rushing into the abyss like mad. The trees were falling into the lake and getting sucked in too," Dobryakov said at his home in this small village of pensioners, about 240 miles east of Moscow near the Oka River.
Within minutes, all that was left of the 48-foot-deep lake was a silent expanse of mud a quarter of a mile wide. Small fish were flapping their death throes near the small, deep pool into which the water had disappeared.
Dobryakov rushed back to the village and grabbed a friend. "I told him, 'The lake's collapsed, the water's gone.' My friend said, 'You're lying.' I said, 'Of course I'm a liar, but not this time.' "
The authorities were called, then the television stations. All braved clouds of black flies and mosquitoes to troop through the forest and investigate the case of the disappearing lake. Where Bolotnikovo residents once picnicked and swam, there was now only a huge crater, caked mud sprouting shoots of new grass.
"I've never seen anything like it. Never," said Dmitry Zaytsev, an officer with the federal Emergency Situations Ministry sent to investigate the case.
"Pretty much all the water went down that hole, and that's it," he said. "Everything – fish, water, everything – got sucked into that hole. And judging by the size of the crater, it must have happened pretty quickly, in a matter of a few hours."
Government officials theorize that a shift in soils underneath the lake opened access to an underground channel that drained the water, estimated from several thousand to more than a million cubic yards, into a subterranean cavern. From there, it may have flowed into the Oka River a few miles away.
"It's pretty scary to even be here. You have to understand, it was like there was a pump somewhere underground. A gaping sinkhole emerged, and everything was flushed down like a toilet," said another Emergency Situations Ministry investigator, Vladimir Gryasnov. "If anyone had been near the thing when it happened, they would have had no chance of surviving."
The channel-to-the-river theory has gained credence as several fishermen along the Oka reported catching 35-pound carp. The species has been found in the lake but not the river. At least, not in ordinary times.
But, of course, these are not ordinary times; not when White Lake is there one day and gone the next.
Residents of the few dozen cottages here say there have always been odd stories about White Lake. Bats lived in caves there, and then one day many years ago the bats – and the caves – were simply gone. Over the years, said Valentina Smyotova, 74, laundry would disappear.
"Women would go there to wash clothes, and sometimes a shirt would swim away from a woman, and then it would be recovered in the river," she said.
Likewise, a church was said to have stood on White Lake's edge in the early part of the 20th century, and the church crumbled into the lake, much as a church did beside a neighboring lake at the town of Dyedovo, added Valentina Dobryakova, 79.
"The church disappeared," she said, "and now God has taken the lake away."
Visitors have come from Moscow to peer down into the crater, looking for some sign or explanation. Some see larger forces at work.
"This is God's judgment. God said all those who destroy the Earth will be thrown into a lake full of flames," said Sergei Zimin, who arrived Thursday from the village of Filinskoye, a few miles away. "People are saying it's a miracle. A horrible miracle."
Local journalism is essential.
Give directly to The Spokesman-Review's Northwest Passages community forums series -- which helps to offset the costs of several reporter and editor positions at the newspaper -- by using the easy options below. Gifts processed in this system are not tax deductible, but are predominately used to help meet the local financial requirements needed to receive national matching-grant funds.
Subscribe now to get breaking news alerts in your email inbox
Get breaking news delivered to your inbox as it happens.
---