Sports
Tampa Bay not ray of hope for Mariners
Sat., June 4, 2005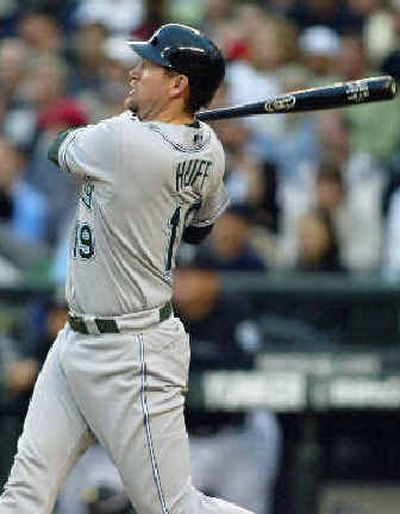 SEATTLE – Remember when the Seattle Mariners slapped the ball to all fields, took the extra base and stole a few, then got a home run or two to win games?
Remember?
Lou Piniella does, and that's how he beat his former team Friday night.
The Tampa Bay Devil Rays used speed and aggressiveness on the bases to score three of their runs, and Aubrey Huff's three-run homer finished off the Mariners 6-1 at Safeco Field.
The Devil Rays pulled off a rarity, winning for just the fourth time this season in 25 road games. It ended a six-game road losing streak.
"It feels good getting a win," Piniella said. "Forget Seattle. Anywhere."
The Devil Rays did it with 14 hits off Mariners starter Aaron Sele and three relievers while holding the M's to five hits and only an unearned run in the fourth inning.
Mariners manager Mike Hargrove was disappointed in his team's approach at the plate, especially the inability to work deep into the ball-strike count.
"We gave a lot of at-bats away tonight and we paid the price," Hargrove said. "We were overaggressive and swung at bad pitches and gave at-bats away. It wasn't any one person. It was the team as a whole."
Sele, falling to 4-5, didn't have the sharpness he'd taken into his previous two starts, allowing seven hits through 41/3 innings. Still, Sele held the Devil Rays to one run on Toby Hall's RBI double in the second inning, and the Mariners got it back in the fourth with an unearned run.
Trying hard to milk that tie game, along with a growing pitch count, through the middle innings, Sele blinked in the fifth.
He'd given up singles to Alex Sanchez and Carl Crawford before getting Julio Lugo on a fly for the first out. Then, on a 1-1 pitch to Huff, Sele left it belt high over the middle of the plate.
Huff drove it well over the fence in right field for a 4-1 Devil Rays lead.
"I thought Aaron certainly pitched well enough to win tonight, but we just didn't swing the bats well enough to win," Hargrove said. "He made that one bad pitch to Huff when that ball came back to the middle of the plate. The three-run home run really put us in a hole, especially the way we were swinging the bats tonight."
Playing with a lead, Piniella's team continued to hit and run the bases aggressively.
Against right-handed reliever J.J. Putz, the Devil Rays scored twice in the seventh to push their lead to 6-1. Crawford, who finished with three hits, led off with a single before Putz walked Julio Lugo. Huff followed with a single to right that scored Crawford.
After Putz got Josh Phelps on a grounder for the second out, Piniella sent both Lugo and Huff on a successful double steal to put runners on second and third with one out. Putz intentionally walked Travis Lee to load the bases, but Jorge Cantu blooped a ball into shallow right field that scored Lugo with the Devil Rays' sixth run.
Neither Sele nor relievers Putz, Shigetoshi Hasegawa and Matt Thornton could contain the Devil Rays, who had every starter reach base. Crawford and Huff each had three hits and even Nick Green, who struck out four times, had one.
The Mariners could dream of such production.
They managed two hits in the first three innings – by Adrian Beltre in the first and Raul Ibanez in the second – off Devil Rays starter Casey Fossum, who was stopped only by his own groin.
Fossum hit Beltre with a pitch in the fourth and walked gingerly off the mound with stiffness in his groin. Piniella replaced Fossum with right-hander Doug Waechter and the domination of the Mariners' soft offense continued.
Waechter got Richie Sexson to hit into a double play before Ibanez singled to drive in Winn, who'd reached on an error. That's all the Mariners got off Waechter, who entered the game 1-3 with a 6.00 ERA.
Waechter retired 14 of the next 16 Mariners, allowing only Mike Morse's first major league hit in the fifth and Ibanez's third hit of the game in the sixth.
Chad Orvella, from Eastlake High School in Sammamish, walked his first two batters in the ninth but came back to get Bret Boone on a fly, Jeremy Reed on a grounder and Morse on a strikeout to end the game.
"He started to settle down and by the third or fourth hitter, he started to throw the ball like he did the other night in Oakland," said Piniella, who hopes to move Orvella into a setup role. "It's great experience for him."
Local journalism is essential.
Give directly to The Spokesman-Review's Northwest Passages community forums series -- which helps to offset the costs of several reporter and editor positions at the newspaper -- by using the easy options below. Gifts processed in this system are not tax deductible, but are predominately used to help meet the local financial requirements needed to receive national matching-grant funds.
Subscribe to the sports newsletter
Get the day's top sports headlines and breaking news delivered to your inbox by subscribing here.
---