This column reflects the opinion of the writer. To learn about the differences between a news story and an opinion column, click here.
Opinion > Column
The Slice: Do we really need another loser in office?
Sat., June 4, 2005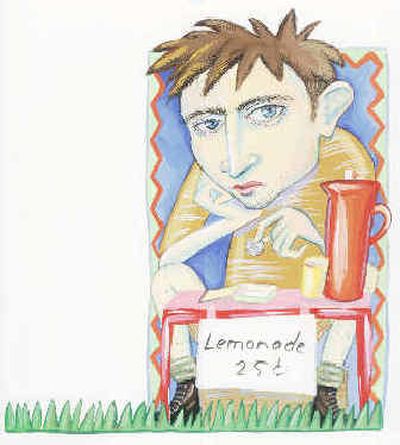 SLICE READER KEN MARTIN thinks that whoever doesn't emerge as governor of Washington should be named mayor of Spokane. You know, as a consolation prize.
"Slice answers (highly specific sunburns): "It's hard to believe, but one time I actually managed to get a sunburn on the inside of my mouth," wrote Rick Hosmer. "No, not from falling asleep on an air mattress, but while climbing Mount Rainier.
"Intense sun, highly reflective glaciers, and gasping in the thin air at over 14,000 feet puts a lot of UV rays where the sun (usually) doesn't shine … right inside your mouth. And that's a place where you never think of applying sun block."
Megan McCracken's story is a bit more down to Earth.
She feel asleep outdoors and wound up with sunburned eyelids.
"Just wondering: Is it an oversimplification to say that the people who are most rah-rah about Spokane are the ones with money?
"Slice answer (choosing the color to paint the house): "My neighbor just painted his house white and it has a green (metal) roof," wrote Paul Mackey of Ione. "I just got a new white (metal) roof. So I painted my house green. Now we're opposites.
"And the paint was on sale."
"Today's lemonade stand mistake: A North Idaho reader told about seeing a kid "clean" a used drinking cup by rubbing it with his T-shirt.
"Slice answer (overhead bin story): "Several years ago when I was flying regularly between New York and Washington, D.C., on business, I witnessed a number of territorial encounters involving overhead bins," wrote Molly Cook.
Her favorite took place late one summer afternoon.
"When I got to my seat on the plane, I started to put a lightweight jacket in the overhead bin, noticed a man's hat already there, and was carefully placing my jacket to the side when the man in the seat behind me jumped up and started screaming at me."
It was his hat up there. Very new. Very expensive. She should just sit on her jacket instead of putting it in the same bin. Et cetera.
Cook was embarrassed and annoyed.
"But sometimes the Karma Committee is at work and fixes such things," she wrote.
A couple of minutes later, a big, tired-looking guy with a no-nonsense expression lumbered down the aisle carrying a hard-sided briefcase.
"He didn't hesitate a second, opened the overhead bin and shoved in the briefcase and sat down. In my mind's eye, the new hat was now a crumpled mass of felt.
"The man behind me jumped up, but apparently thought better of the idea and said not a word. I didn't say what was on my mind either, but I did have the opportunity to exchange one brief but fully satisfying look with Hat Man."
"Today's Slice question: What could possibly happen that might garner Spokane more national attention than the mayoral controversy?
---
---