News > Special
Thriving cities in desert triangle battle for bucks
Sat., June 4, 2005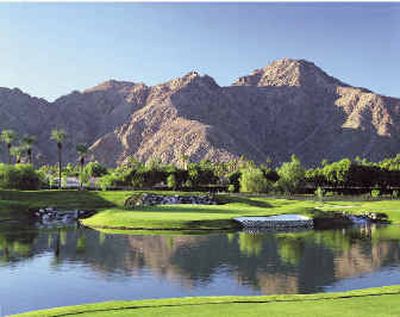 Sex sells for one … saguaros, spas and serenity for others.
The Southwest's four desert destinations – Las Vegas, Palm Springs, Calif., Phoenix/Scottsdale and Tucson – unleash these images on prospective visitors' imaginations in a battle for the billions they spend pursuing pleasure.
The pitches can be as far apart as the North and South rims of the Grand Canyon (which Arizona aims to "reclaim" from Las Vegas' marketing grip), but the stakes are the same: big dough.
The desert cities target many of the same markets and compete for some of the same visitors, yet each has managed to carve a distinct slice of the tourism pie as terrorism fears have subsided and the economy has rebounded.
Do they fight over visitors? Yes, but politely.
Trash each other's points of pride? No, not publicly.
Competition for golf vacationers is intense, and both Las Vegas and Phoenix pitch access to the Grand Canyon. Although the markets don't claim they're out to steal the others' customers, officials in conversation will make subtle digs about the other. Phoenix is too congested and therefore not as relaxing; Las Vegas is unauthentic, too expensive and lacks a pretty desert; and Palm Springs and Tucson are hard to get to from some parts of the country.
But wherever you look, desert tourism is thriving. Ask visitors what they like about the markets and it's often what the markets advertise. They love the Phoenix-Scottsdale resorts and golf experience, the Vegas action, the Tucson outdoors, the Palm Springs hipness.
Las Vegas' appeal for Walter Fulgham, a 30-something from San Jose, visiting the city with his wife, Aletha, is "the ability to do anything you want to do at any time of the day or night."
The couple love to stay up late, and Las Vegas answers that call.
Phoenix is great, too, for golf and hanging out, he said, but it's "a little more low-key, a little more relaxed," not exciting like Las Vegas, Walter said.
Sandro Campanile of New York City loved his visit to Phoenix with his wife, a weeklong trip that included visits to Tucson and Sedona.
"Phoenix and Tucson seem a lot more real than Vegas. It is fake," Campanile said Wednesday at the Arizona Biltmore Resort & Spa in Phoenix. "Vegas to me is a three-day jump, tops. You get a different cast of characters in Vegas."
Maggie Dodge of Toronto was visiting Tucson Mountain Park with her husband and young children. "We're from Canada, so to look out and see all these saguaros and cactus everywhere is mind-boggling," she said.
In Palm Springs, Maria Martinez of Baldwin Park, Calif., said: "I love it here. I come here four, five times a year. It's peaceful, relaxing. There's a lot to do, the shopping. You see a whole bunch of different styles that you don't necessarily see elsewhere."
Keith Thomas of Petaluma, Calif., staying in the Palm Springs area, said, "Being a gay man, there's little controversy for us here. We can sit around and relax at the pool with people like us. Everyone is more or less on equal terms."
Different challenges
Separated by as few as 116 miles and no more than 404 miles, the four destinations form a desert triangle, relative next-door neighbors in the expansive West.
They all feature swanky resorts, rejuvenating spas, superb golf, delectable cuisine and ample sunshine. They share gambling since the rise of Indian casinos in the Palm Springs area and Arizona, although Las Vegas remains king on that front.
The size and magnitude of Las Vegas' new hotel developments require it to keep adding customers to feed new hotel growth. Las Vegas figures it needs to add almost 6 million visitors by 2009 to meet room growth and maintain current occupancy. It hosted a record 37.4 million visitors last year.
All of Arizona had about 28 million visitors in 2003.
If metro Phoenix has a competitor among its desert rivals, it would be Sin City. Steve Moore, president and chief executive officer of the Greater Phoenix Convention & Visitors Bureau, tips his hat to Las Vegas for buying and building what it didn't have, but naturally he thinks his destination has the edge.
"What happens in Phoenix does not stay in Phoenix, it's talked about for years" because people have a great time and want to share it, he said, spinning the Las Vegas marketing line.
Las Vegas officials didn't return the favor.
"Las Vegas is looking after Las Vegas. Rather than trying to concern itself with bringing other people down, we're always trying to build ourselves up," said Erika Yowell, spokeswoman for the Las Vegas Convention and Visitors Authority.
The two big cities clearly differ, said Mark Pritchard, assistant professor at Arizona State University's School of Community Resources and Development in the College of Public Programs.
Las Vegas' move back to adult entertainment and de-emphasis of the family fun that it pushed in recent years is probably to Phoenix's advantage, he said.
Phoenix doesn't consider Tucson and Palm Springs as competitors, said Cindy Winkelman, the Greater Phoenix bureau's marketing director. Phoenix and Tucson have advertised together to attract Cactus League baseball fans from U.S. cities with teams who train in Arizona.
While Phoenix and Las Vegas boast abundant, affordable air service, Palm Springs and Tucson wish they had more flights but debunk criticism that they're hard to reach.
"The most special places in the world (like Hawaii and Cancun, Mexico) are hard to get to, and that is our sell when you talk about our intimacy," said Michael Dominguez, vice president of sales and marketing for Palm Springs Desert Resorts Convention and Visitors Authority.
Staff members of the Las Vegas Review Journal picked Tucson as their favorite Arizona getaway, saying: "(It) has the magic of a college town; it hosts the University of Arizona. That means a steady calendar of campus-related events to attend. But it also boasts a wealth of museums and historic sites. Its Arizona-Sonora Desert Museum is renowned. Biosphere 2 is close enough to beckon the science-minded. History buffs have the San Xavier mission nearby."
Pick a niche
Each city offers nearly perpetual sunshine, mountain views and a desert lifestyle. But each has its niche:
" Phoenix seeks to refute perceptions that the desert is a dry, God-forsaken place. Its new "desert is a myth" campaign, with images of happy people amid greenery and streams, has worked well, Winkelman said.
It plans to retain the campaign but build off the state's Grand Canyon push (as one of the world's wonders) to tout seven wonders of its own: resorts, golf, spas, arts/culture, outdoor adventure, shopping and dining.
It also plans to talk more about the "hip-hop, happening, cool young scene" found in the Valley nightlife, Moore said. That plays nicely, too, into the hands of Scottsdale, which has myriad clubs and eclectic restaurants.
Phoenix also will compete more with Las Vegas in the convention sector as Phoenix Civic Plaza's expansion is completed in 2008. Still, though, the Las Vegas Convention Center measures in at 3.2 million square feet, 60 percent larger than Civic Plaza will be after expansion. But Phoenix officials hope a planned 1,000-room hotel to serve the center, downtown revitalization and existing Valley attractions improve the city's competitiveness.
" Las Vegas seems to consider the world its opportunity. But it especially wants to tap first-time visitors because research shows they'll return, Yowell said.
Las Vegas is on a roll, and there's no sign it's cooling off. The city's literature cites $6 billion in new development under way that will add 15,000 rooms to the city's 131,503-room inventory. It will target new U.S. and international markets to keep the rooms filled, improve its convention facilities, including better meeting space, monorail station access and circulation improvements.
" Palm Springs, which markets itself as Palm Springs Desert Resorts for its menagerie of eight desert cities – Cathedral City, Desert Hot Springs, Indian Wells, Indio, La Quinta, Palm Desert, Palm Springs and Rancho Mirage – claims to suit many tastes in an atmosphere of tranquillity.
In recent years, the area, which also includes Coachella, has gone after gaming revenue and the gay tourism dollar, with more than 30 resorts and hotels catering to gays and lesbians.
But one of its biggest opportunities is recapturing that celebrity-place-to-be status of yesteryear, Dominguez said.
"We are just on the verge of really becoming the next Hollywood glamour spot, and it's kind of a rebirth for Palm Springs and this area," he said.
Palm Springs is getting a boost from the marketing of nearby Indian casinos, which are branching into better entertainment and building hotels.
"Gaming, as we call it, is just one more thing to add to the package," said Mark Graves, Palm Springs Desert Resorts CVA spokesman.
But that young, creative class scene, one Phoenix hopes to exploit, is a big opportunity, he said.
"The young crowd … rediscovered the area" looking for the Rat Pack and Sinatra feel, finding the area hip and cool, he said.
" Tucson says it's "Real. Natural. Arizona." It's unique for its diversity in culture, accommodations from dude ranches to resorts and activities from golf to the Arizona-Sonora Desert Museum, according to Jonathan Walker, president and chief executive officer of the Metropolitan Tucson Convention & Visitors Bureau.
That's the city's opportunity "to really carve out a unique niche in the visitor market."
Then there are people like Markus Tremp of Zurich, Switzerland, who was spending three weeks in the Southwest with his family, traveling in a rented RV.
"We prefer nature," and the desert is so different from home, he said during a stop at Old Tucson Studios. They also like to experience history and culture, and see old buildings. Las Vegas isn't bad, he said, noting his children's fascination with its theme rides. "(But) for us, it's a spot to stay one or two nights and then to leave it" for the surrounding outdoors, Tremp said.
Tucson got its first new major resort in 18 years, the JW Marriott Starr Pass Resort & Spa, earlier this year about 4 1/2 miles west of Interstate 10, and with it an injection of recognition.
What also should help, he said, is the Rio Nuevo project to renovate downtown with retail and nightlife along the lines of what's occurring in Phoenix and expanding the convention center.
Rebounding from rain
Rain, a lot of it, fell in the deserts this winter when visitors expected to get sun, not soaked.
While golf courses saw their weekend play from locals dip, the Phoenix, Palm Springs, Tucson and Las Vegas tourism markets all filled more rooms in the key first-quarter season than they did in the same quarter a year earlier.
The Phoenix-area occupancy was 79.4 percent, up 3.8 percent; Tucson occupancy was 77.1 percent, up 5 percent; and Palm Springs occupancy was 73.8 percent, rising the least at 0.8 percent, according to Smith Travel Research. Perhaps all those Los Angeles-area residents who were drenched figured it was pointless to follow the storms to Palm Springs. The rain hurt early on, but "we recovered and we had a good February and March," said Graves, of the Palm Springs' visitors authority.
The Las Vegas CVA reported occupancy of 89.1 percent, up 1.2 points over first quarter 2004 and said total visitors increased 1.4 percent, to 9.4 million for the quarter.
Tucson's Walker said visitors who got rained on won't be dissuaded from returning.
People realize they can't control the weather, said Mark Lindsey, sales and marketing director for the Tucson's Westin La Paloma Resort & Spa. "People understand."
Local journalism is essential.
Give directly to The Spokesman-Review's Northwest Passages community forums series -- which helps to offset the costs of several reporter and editor positions at the newspaper -- by using the easy options below. Gifts processed in this system are not tax deductible, but are predominately used to help meet the local financial requirements needed to receive national matching-grant funds.
Subscribe now to get breaking news alerts in your email inbox
Get breaking news delivered to your inbox as it happens.
---