News > Voices
Women honored for work in schools by CVSD board
Sat., June 4, 2005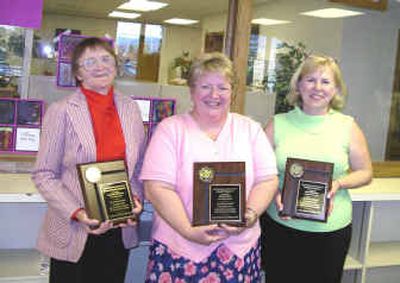 THREE WOMEN WHO INVEST in Central Valley schools had their work lauded recently. The Central Valley School District board recognized them on May 23 as 2005 Meritorious Service Award recipients.
At South Pines Elementary, a staff member got kudos for going above and beyond. Caroly Gant is an educational assistant and does supervisory work. Each morning she greets students and parents in front of the school with a positive attitude, parents and co-workers say.
"She knows every student in the building and takes time to get to know their families as well as her co-workers and their families," said a nomination form. One parent wrote that Gant is "akin to Mrs. Santa, bestowing our South Pines family with gifts for warmth, cheerfulness, calm, creativity and safety. We so appreciate her and her magical ways."
Ann Gotfredson, a Liberty Lake Elementary fourth-grade teacher, was noted for always reading about education and implementing new ideas although she has taught in Central Valley schools for 27 years. She also was recognized for her humor, ability to connect with children, passion for teaching and active role on school committees.
"Ann expects excellence from every student, and they rise to her daily challenges," wrote a co-worker. "She keeps a sense of humor to make learning fun. Her dedication should be celebrated."
Dorothy Peterson, a McDonald Elementary volunteer, received the award for her work in teacher Mary Hicks' first-grade classroom. She has volunteered for the past seven years for two mornings a week, reading with students and helping with math and spelling.
Peterson also helps with field trips, volunteers in the school library, works on projects at home and even assists during the summer preparing for the start of school.
When she is not in the classroom, Peterson volunteers for Meals on Wheels and knits clothing for children in need. "She is a one-of-a-kind volunteer," wrote Hicks. "We are so blessed to have this wonderful lady at McDonald Elementary."
Started in 1985, the annual awards honor exemplary contributions by employees, community members and organizations in support of student achievement in Central Valley schools. The awards were presented to the individuals in three categories: certificated employee, classified employee and community member/organization.
More than 85 individuals and organizations were considered for this year's awards, nominated by employees, parents and students. Each nominee was publicly recognized by board members at celebrations held in all 22 Central Valley schools during the first three weeks of May.
Recipients of the district-wide 2005 Meritorious Service Awards were selected by board members and Superintendent Mike Pearson.
VCS student places at bee
Valley Christian School eighth-grader Janelle Wagnild finished in eighth place among national contestants in the ACSI National Spelling Bee held in April in Washington, D.C.
The bee had 46 contestants from across the United States. The meet was on April 16 at the Hilton in Arlington, Va. After the bee, participants went on a four-hour sightseeing tour in the D.C. Mall area.
Local journalism is essential.
Give directly to The Spokesman-Review's Northwest Passages community forums series -- which helps to offset the costs of several reporter and editor positions at the newspaper -- by using the easy options below. Gifts processed in this system are not tax deductible, but are predominately used to help meet the local financial requirements needed to receive national matching-grant funds.
Subscribe now to get breaking news alerts in your email inbox
Get breaking news delivered to your inbox as it happens.
---