News > Nation/World
Al-Sadr says elections legalized occupation
Tue., June 7, 2005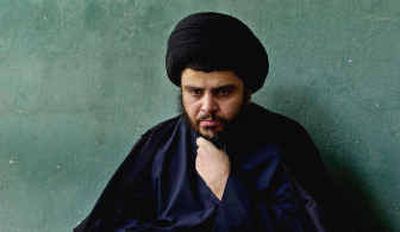 NAJAF, Iraq – A radical anti-American cleric says he will stay away from Iraqi politics as long as U.S. troops remain, and he condemned senior Shiite leaders and the government for embracing this year's elections that "legitimized the occupation."
In a rare interview with a Western news organization, Muqtada al-Sadr also criticized the desecration of the Quran by interrogators and guards at the U.S. prison camp in Guantanamo Bay, Cuba, telling the Associated Press their action was criminal.
"God willing, whenever the tyranny's blows increase in frequency, our own courage and strength increase, too," Muqtada told the AP late Sunday as he sat on a cushion in his home in this holy city south of Baghdad. "Islam has lost nothing from this crime."
Al-Sadr indirectly criticized Iraq's top Shiite cleric, Grand Ayatollah Ali al-Sistani, for promoting the process that led to the formation of the country's Shiite-led government.
Al-Sistani was the driving force behind Prime Minister Ibrahim al-Jaafari's government and the man whose endorsement of the electoral process led Shiites to vote in droves in Iraq's historic balloting on Jan. 30.
Al-Sadr said al-Sistani's appeal presented voting as an act of "political resistance" against the U.S. presence in Iraq, but it in fact legitimized the occupation.
"In reality, the electoral process was designed to legitimize the occupation, rather than ridding the country of the occupation," al-Sadr said.
The United States formally ended its occupation of Iraq a year ago, but it still has nearly 140,000 troops in the country, giving Washington a big say over policy.
Al-Sadr followers have in the past voiced contempt for Iraq's senior Shiite clerics, including al-Sistani, for their perceived tolerance of the U.S. presence in Iraq. They have refrained from making such attacks in recent months.
Al-Sadr's criticism of the Iranian-born al-Sistani also seemed to contradict efforts to improve relations with rival Shiite bodies and politicians from Iraq's ethnic and religious groups.
A populist leader who burst onto Iraq's political scene after the 2003 ouster of Saddam Hussein, al-Sadr has been holed up at home since last fall. Scores of people stood in line outside the modest two-story house in the upscale al-Hanana neighborhood, with security guards searching them under a tent.
There is an outstanding arrest warrant for al-Sadr over his alleged role in the murder of a rival cleric in Najaf two years ago. U.S. officials have said in private conversation that they do not mind al-Sadr's return to politics – as long as he stays away from violence.
Local journalism is essential.
Give directly to The Spokesman-Review's Northwest Passages community forums series -- which helps to offset the costs of several reporter and editor positions at the newspaper -- by using the easy options below. Gifts processed in this system are not tax deductible, but are predominately used to help meet the local financial requirements needed to receive national matching-grant funds.
Subscribe now to get breaking news alerts in your email inbox
Get breaking news delivered to your inbox as it happens.
---