News > Nation/World
Bolivian president proposes to resign
Tue., June 7, 2005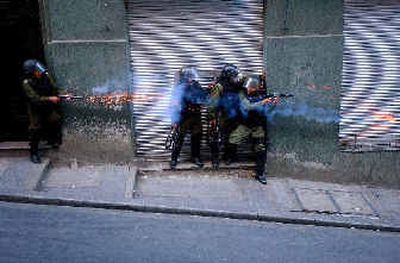 LA PAZ, Bolivia – President Carlos Mesa offered to resign Monday night for the second time since March, again seeking to quell weeks of anti-government protests that have paralyzed La Paz and shaken his government.
The offer followed a day of demonstrations as tens of thousands of Indians, miners and labor members protested in downtown La Paz in their largest anti-government march in weeks.
"This is as far as I can go," Mesa said in a nationally televised address. "It is my decision as president to present my resignation."
Protesters had been calling for Mesa's resignation as well as demanding early elections. Monday's protest in La Paz were largely peaceful, but riot police fired volleys of tear gas canisters and fought sporadic battles against rock-throwing protesters on the fringes of the demonstration.
More than 500 protesters were turned away by acrid tear gas as they tried to close in on Mesa's seat of power at the Government Palace, and riot police also scattered a crowd of thousands from another downtown plaza when they tried to rally.
No injuries were immediately reported, but police made 22 arrests, among them protesters accused of brandishing dynamite, according to state television Canal Siete.
Mesa previously offered to resign in March amid similar protests, in an apparent political gamble to rally critics around his administration. Lawmakers rejected the offer then, giving Mesa crucial support after he had said the country was becoming ungovernable.
It was not immediately clear when congressional leaders would meet to consider the offer and it remained uncertain if lawmakers will accept the resignation. Mesa, a historian and journalist turned politician, is an independent without a political party supporting him in Congress.
Monday's protests began with long lines of demonstrators, including indigenous women in black bowler hats and farmers in baseball caps, who snaked down from poor hilltop slums above the capital. Disgruntled miners created thunderous booms by tossing dynamite sticks.
"A people united will never be defeated!" protesters shouted, as they pressed for the nationalization of Bolivia's energy industry and greater indigenous rights, among other demands. The raucous but largely peaceful demonstrations raised tensions in this impoverished Andean nation of 9 million people, marking the fourth week of a swelling crisis that has seen protesters throw up road blockades that have strangled the capital and triggered gas and food shortages.
The crisis pits Indian and labor groups from the poorer eastern highlands, including La Paz and its poor satellite city of El Alto, against ruling blocks from Santa Cruz in the east and the oil-rich gas fields to the south that are pursuing greater autonomy.
The protests have steadily increased after Bolivia's Congress moved last month to increase taxes on foreign oil companies that have flocked to the country to develop its natural gas reserves – the second largest in South America after Venezuela.
The measure by lawmakers was intended to calm tensions in a country where anti-globalization anger runs high.
But the move only unleashed new street demonstrations by protesters demanding the nationalization of the oil industry and a constitutional assembly to write a new constitution giving stronger representation to the indigenous population, which makes up about half the population.
Local journalism is essential.
Give directly to The Spokesman-Review's Northwest Passages community forums series -- which helps to offset the costs of several reporter and editor positions at the newspaper -- by using the easy options below. Gifts processed in this system are not tax deductible, but are predominately used to help meet the local financial requirements needed to receive national matching-grant funds.
Subscribe now to get breaking news alerts in your email inbox
Get breaking news delivered to your inbox as it happens.
---