News > Business
Trentwood to supply aluminum for Airbus
Tue., June 7, 2005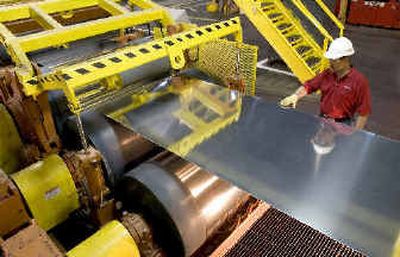 Kaiser Aluminum Corp. has signed a new supply contract with Airbus, the European aerospace company that's competing with homegrown Boeing Co. to be the world's leading aircraft company.
The agreement is a six-year sales pact to deliver Kaiser's heat-treated aluminum sheet, produced at the Trentwood rolling mill. Airbus will use the metal in the manufacture of its new A380 jumbo jet.
Though the companies declined to disclose how much aluminum sheet will be delivered, or the potential value of the contract, Kaiser spokesman Scott Lamb called it a substantial business development.
Kaiser has counted Airbus among its customers for years. Now with a multi-year deal in place, Airbus is one of Kaiser's leading customers.
Lamb declined to say if Airbus purchases would rival those of Boeing, deferring to Kaiser Chief Executive Officer Jack Hockema. In press release, Hockema said only, "The new agreement represents an important piece of committed business for Kaiser."
Pete Bunin, Kaiser's vice president of flat-rolled products, said the Airbus deal bodes well for the Trentwood plant for years to come.
Though it was once rumored to be for sale, Kaiser kept the sprawling factory and now considers it among the core assets in its post-bankruptcy plans.
The Trentwood rolling mill, located in Spokane Valley, was built in the 1940s as part of the nation's war effort. It was a diversified plant for years, but recently changed its product mix. For example, the mill quit rolling aluminum for beverage cans, greatly reducing the amount of metal shipped each month. Kaiser decided instead to focus on higher-value products like sheet metal for aircraft, rather than high-volume products.
The deal with Airbus is good news for workers, said Dave Carlson, president of Steelworkers Local 338.
"A contract like this never hurts," he said. "Business has been good."
Trentwood employment levels have risen in the past few years. Carlson said about 500 Steelworkers now work in the plant, along with more than 150 salaried employees and temporary workers. At one point, combined employment there had dropped below 500.
Airbus and rival Boeing Co. both buy aluminum sheet from Trentwood, which factors heavily into the success of Kaiser's reorganization effort.
The company, which has moved its headquarters from Houston to Southern California, will attempt to emerge from Chapter 11 bankruptcy this year.
As part of its bankruptcy, Kaiser has sold its collection of aluminum smelters, alumina refineries and bauxite mines, leaving it a much smaller company focused on the manufacture and sales of aluminum parts and products.
During the first quarter of 2005, Kaiser reported profits of $8.3 million on sales of $281.4 million.
In Spokane, Kaiser sold its Mead smelter in 2004 as scrap. Earlier, it had sold its Tacoma smelter.
Local journalism is essential.
Give directly to The Spokesman-Review's Northwest Passages community forums series -- which helps to offset the costs of several reporter and editor positions at the newspaper -- by using the easy options below. Gifts processed in this system are not tax deductible, but are predominately used to help meet the local financial requirements needed to receive national matching-grant funds.
Subscribe now to get breaking news alerts in your email inbox
Get breaking news delivered to your inbox as it happens.
---