News > Business
Washington Mutual to buy Providian
Tue., June 7, 2005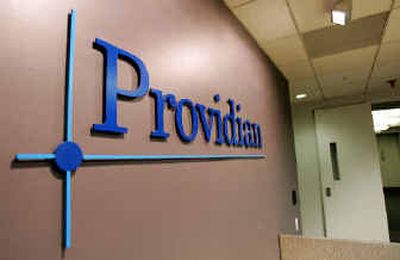 SAN FRANCISCO — Washington Mutual Inc., the nation's largest savings and loan, said Monday it is expanding into the credit card business by buying Providian Financial Corp., a once-troubled lender that bounced back from the brink of failure to become a prime takeover target.
Seattle-based Washington Mutual initially valued the stock-and-cash deal at $6.45 billion, or $18.71 per share — a modest 4 percent above Providian's closing price last week.
Investors weren't impressed. Providian's shares fell 33 cents, or 1.8 percent, to close Monday at $17.63 on the New York Stock Exchange, where Washington Mutual's shares declined $1.03, or 2.5 percent, to finish at $40.54.
Hoping to thwart potential rival bids, Washington Mutual imposed a $245 million break-up fee as part of its agreement with Providian.
Washington Mutual, with total assets of $308 billion, plans to use San Francisco-based Providian as its springboard into the $800 billion credit card industry after the deal closes late this year.
It had been preparing to launch its own credit card early next year before concluding it made more sense to buy the expertise and existing customers of a major lender like Providian, the nation's ninth largest credit card issuer with 9.4 million accountholders and $18 billion in loans.
With most of its profits tied to home lending, Washington Mutual is counting on credit cards to diversify its revenue as it strives to become more like a bank than a traditional savings and loan.
"We view this as a favorable and transformational opportunity for Washington Mutual," Kerry Killinger, the thrift's chairman and chief executive, said during a Monday conference call with analysts.
Excluding charges incurred in the takeover, Washington Mutual expects Providian to boost its 2006 earnings by 4 cents per share and increase its 2007 earnings by nine cents per share.
Profits could rise even higher, Killinger said, if the companies are successful in selling more products to each other's customers.
Building a successful credit card operation from scratch would have been difficult for Washington Mutual because the 10 largest issuers already control 80 percent to 85 percent of the market share, said Peter Carroll, managing director of retail banking for financial services industry consultant Mercer Oliver Wyman.
Providian hopes to open more credit card accounts by taking advantage of Washington Mutual's existing relationships with 11.7 million households. The deal also should make Providian less reliant on direct marketing through the mail because it can connect with prospective customers through Washington Mutual's nearly 2,000 branches and nearly 3,400 automated teller machines.
Meanwhile, Washington Mutual hopes to sell checking accounts and home equity loans to Providian Financial's customers.
"It's a compelling strategic fit," Killinger said.
Most of Providian's 3,200 employees, including the company's top executives, are being retained to help steer Washington Mutual's entrance into the credit card business. Because few layoffs are envisioned, Washington Mutual expects to save relatively little — about $60 million annually — by melding the companies.
The Providian management team, led by industry veteran Joseph Saunders, has engineered a dramatic turnaround since 2001 as the company battled to survive heavy losses that piled up from the company's former specialty of credit card loans to risky borrowers.
Providian's past difficulties caused the company's stock to plummet from a peak of $66.72 in 2000 to $2 in late 2001, right around the time federal banking regulators clamped down to prevent further problems.
Local journalism is essential.
Give directly to The Spokesman-Review's Northwest Passages community forums series -- which helps to offset the costs of several reporter and editor positions at the newspaper -- by using the easy options below. Gifts processed in this system are not tax deductible, but are predominately used to help meet the local financial requirements needed to receive national matching-grant funds.
Subscribe now to get breaking news alerts in your email inbox
Get breaking news delivered to your inbox as it happens.
---