News > Features
Artist finds voice through photos
Thu., June 9, 2005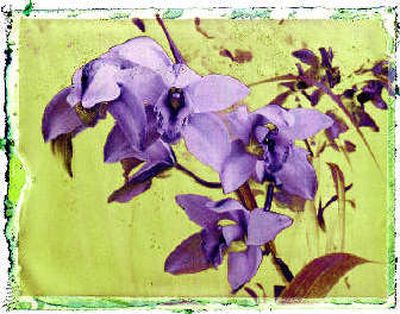 Joanne (Prigmore) Warfield – former owner of the Juniper Tree Gallery and mastermind behind the '70s alternative shopping center Second City – is back in Spokane.
After almost three decades away from the Lilac City, Warfield is returning with an exhibit of manipulated photographs in the Huneke Gallery at the Spokane Art School.
"It is a switch-around change-around," said Warfield in a telephone interview from her home in Venice, Calif.
With 30-plus years in the art business as gallery owner and dealer, Warfield discovered her own voice as a fine-art photographer less than 10 years ago.
"I am inspired by the 'Mama of Dada,' Beatrice Wood," said Warfield. "She started her ceramic career at 55 and had another fantastic 50 years of working.
"She passed away at age 104. I plan on following her schedule. There is no holding back the expression of the human spirit."
Warfield expresses her human spirit by creating images that she hopes will inspire and intrigue.
In the late '90s she began working with Polaroid image transfers and emulsion lifts. Within a short time she was experimenting with "outside of the box" processes.
"I soon developed several of my own unique techniques," she said. The large-scale Polaroid manipulations in this show include images from Warfield's floral and mythology series.
An artist's reception is Friday from 5 to 7 p.m. The show is up through July 5.
The art school, 920 N. Howard St., is east of the Spokane Arena. The free gallery is open Monday through Friday from 9 a.m. to 7 p.m. and Saturday from 10 a.m. to 2 p.m.
For information call 328-0900 or go to www.spokaneartschool.org.
Coeur d'Alene Artwalk
Ten downtown Coeur d'Alene galleries are hosting opening receptions from 5 to 8 p.m. during the Second Friday Artwalk:
" The featured gallery during June is Cisco's, 212 N. Fourth St. The gallery opened in 1996 and specializes in Western, Native American, sporting and wildlife art.
Coeur d'Alene artist Jim Carkhuff will be on hand Friday night to answer questions about the inspiration behind his Western paintings.
Carkhuff, born in 1927, grew up on a ranch in southwest Colorado. "Guess I was sketching horses as soon as I could walk," he said in a news release.
He continues to paint Western scenes, usually depicting horses or stagecoaches.
" The Art Spirit Gallery, 415 Sherman Ave., is opening "Treasures," featuring the mixed-media brush sculptures, wood-fired vessels and raku "fertility" figures of Glenn Grishkoff of Enterprise, Ore.
"Glenn recognizes art where others see only utility," said gallery owner Steve Gibbs in an e-mail. "In his world, thick, animal-hair brushes become bouquets, inkwells grow to the size of dishwashers and cast-off bamboo branches blossom with unimaginable personality."
"I take things out of their functional realm and bring out their beauty," said Grishkoff in a news release.
" Oil painter Charles Barr of Seattle is showing at the Devin Galleries, 507 Sherman Ave. His show, "Interpretations," includes paintings that use a number of different techniques that give the impression of mixed media.
"My goal is to create pieces ranging from representational to abstract with a focus on color, contrast and balance," said Barr in a news release. "I do not want the quality of the painting to diminish whether viewed from 10 feet or eight inches."
More 'Second Friday' galleries
Other Coeur d'Alene galleries having opening Friday receptions from 5 to 8 p.m. are:
" Angel Gallery of Fine Art & Antiques, 423 Sherman Ave., is featuring new works by impressionist painter Robert Krogle of Coeur 'd Alene.
" Erlendson Art Glass, 116 E. Lakeside Ave., is showcasing handblown glass by Spencer Erlendson and other Northwest glass artists.
" Frame of Mind Gallery and Framing, 119 N. Second St., continues with raku pottery by Bill Meehan and paintings by Carrie Stuart Parks, Carl Funseth, Barbara Peretti, Jim Carkhuff and Nona Hengen.
" Mosgrove Gallery, 211 Coeur d'Alene Ave., No. 101, is exhibiting paintings by Robert McNeill of Coeur d'Alene.
" Northwest Artists, 217 Sherman Ave., is spotlighting blown-glass artists John and Darlene Johnson and fused-glass artist Denise Wilson.
" The Painter's Chair Gallery, 223 Sherman Ave., is introducing new gallery artists Brian Davis, Kathleen Hooks, Steve Quartly and Valadimir Kush, along with owner Stephen Shortridge's "Sunday Morning Coeur d'Alene."
" Summer's Glass, 211 Sherman Ave., presents a new collection of masks and bowls by Cindy Summers of Hayden.
" Additional venues displaying artwork include: All Things Irish, 315 Sherman Ave.; Christmas at the Lake, 517 Sherman Ave.; Rivers of Art, 110 N. Fourth St.; and Worthington's Fine Antiques and Gifts, 210 Sherman Ave.
Cheney Art Walk
The first downtown Cheney Art Walk takes place Friday between 1 and 7 p.m.
Contemporary impressionistic abstract sculptor Richard Warrington is showing his metal works at the Art 2 O Gallery, 113 F St.
Other artists featured in the art walk include Mike Ault, Judy McKeehan, Rich Baker, Richard Craven, Bonnie Haines and Cheney High School art students.
Participating venues include Sweet Savory, Owl Pharmacy, Washington Mutual, Tree of Knowledge and Kafka Coffee.
Old Hotel Gallery
Oil painter Dorothy Kimball of Moses Lake is showing 25 canvases during June at the Old Hotel Gallery, 33 E. Larch St. in Othello, Wash.
Kimball's featured painting is "Dry Coulee Trestles" of railroad tracks in the Columbia Basin. An artist's reception is June 18 from 1 to 2:30 p.m.
Entree Gallery
During June, the Entree Gallery at Priest Lake is showing "Kalediscopes" by regional artists, and functional and visual yard ornaments in "Outdoor Odysee."
The gallery, open daily, is on Reeder Bay Road, two miles east of Nordman near Elkins Resort. For information go to www.entreegallery.com or call (509) 443-2001.
Other galleries
" Douglas Gallery, 8 N. Post St., is showing "Latitudes," handcrafted jewelry made from exotic wood and natural stones by Bonnie June Jewelry Design.
" The Timber Stand Gallery on the Cedar Street Bridge in Sandpoint is hosting its second annual Appraisal Day on Saturday from 10 a.m. to 3 p.m. Fine art appraiser Tim Gordon of Missoula will estimate the value of old paintings and other art objects for a fee of $25 per item (limit two items per customer).
Local journalism is essential.
Give directly to The Spokesman-Review's Northwest Passages community forums series -- which helps to offset the costs of several reporter and editor positions at the newspaper -- by using the easy options below. Gifts processed in this system are not tax deductible, but are predominately used to help meet the local financial requirements needed to receive national matching-grant funds.
Subscribe now to get breaking news alerts in your email inbox
Get breaking news delivered to your inbox as it happens.
---