News > Home
Line up for Parade of Paws
Thu., June 9, 2005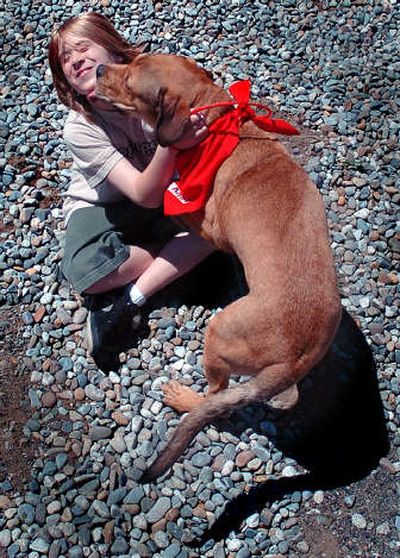 On Saturday, the Spokane Humane Society will host its second Parade of Paws. This year, along with the 2- or 4-mile fund-raiser walks, there will also be contests and live music.
Diana Rasmussen, Outreach Coordinator for the Spokane Humane Society, said all money raised will go toward direct animal care: "Food, vaccinations, and the most direct animal care – our staff," she said. "Until people make a lifetime commitment to the animal they buy or adopt, there will be a need for animal shelters."
Rasmussen said last year's debut of Parade of Paws raised more than $11,000 for the humane society.
"We had between 250 and 275 people who walked a dog that day," she said. "Last year every dog that was available to walk in our shelter got walked, and lots of people walked their own pet."
In fact, a number of adoptions took place that day.
"Several people said how wonderful it was to see the dogs out resting in the grass after the walk," she said. "Some of them adopted pets."
Those who raise $50 while participating in the walk this year will receive a Frisbee; if participants raise $100 or more, they'll walk away with a Frisbee and a T-shirt. There will be drawings for other prizes throughout the event.
Parade organizers wanted to add other festivities to last year's walk, and decided to introduce a few contests. "This year's event includes an Ugly Dog Contest, and a contest for the biggest ear and longest tail," she said.
And just in case Fido takes the blue ribbon, or if you'd just like a memento from the day, a photographer will be on hand to snap the perfect shot to place on your mantle. People who don't own animals are encouraged to borrow a shelter pet for the photo-op.
Among Saturday's vendors will be therapy dogs, Pawsitive Outreach, Malamute and Rottweiler rescue groups, and groomers from Petsmart. There will also be a microchip clinic ($20) and a vaccination clinic ($10).
National Western music recording artist Barry Lee White and his Moonshine Band will entertain from 1 to 3 p.m.
The Spokane Humane Society currently houses about 180 cats and kittens and nearly 130 dogs and puppies. About 3,000 critters are adopted out by the group annually, or about 275 each month.
Registration for the free Parade of Paws is noon to 6 Friday, and at 8 a.m. Saturday. The walks begin at 9:30 a.m. Saturday at the organization's headquarters, 6607 N. Havana St. Sponsorship sheets for the walks are available at Petco, Petsmart, Northwest Seed and Pet, and at the Spokane Humane Society. Call (409) 467-5235 for more information
Local journalism is essential.
Give directly to The Spokesman-Review's Northwest Passages community forums series -- which helps to offset the costs of several reporter and editor positions at the newspaper -- by using the easy options below. Gifts processed in this system are not tax deductible, but are predominately used to help meet the local financial requirements needed to receive national matching-grant funds.
Subscribe now to get breaking news alerts in your email inbox
Get breaking news delivered to your inbox as it happens.
---