News > Spokane
Lobbyist claimed links to Hastings
Thu., June 9, 2005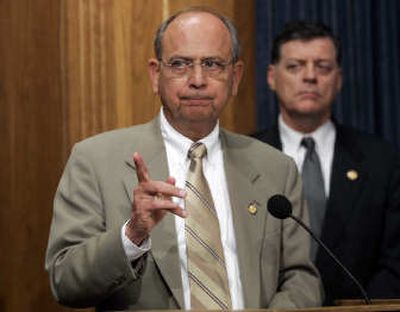 WASHINGTON – The Washington state lawmaker who will head a House inquiry into trips that lobbyist Jack Abramoff arranged for House Majority Leader Tom DeLay has his own links to the lobbyist.
At one point, Abramoff touted Rep. Doc Hastings' relationship with his firm in a pitch to a prospective client.
As chairman of the House ethics committee, Hastings, a Republican., could play a big role in determining DeLay's future.
DeLay has asked the panel to review his travels, which include trips arranged by Abramoff when the lobbyist worked for the Seattle-based Preston Gates firm.
Abramoff cited close connections to Hastings in a 1995 letter to the Northern Mariana Islands government in which he urged the government to hire his firm.
At the time, Hastings served on a House subcommittee that oversaw the Marianas and was considering Democratic proposals to impose minimum wage, immigration and other U.S. laws on the Pacific commonwealth, which opposed them.
In Abramoff's sales pitch, he wrote that lobbying colleague and former Washington state Democratic Rep. Lloyd Meeds "has an excellent relationship" with Hastings and several other members of the House Subcommittee on Native American and Insular Affairs.
The Marianas hired Abramoff's firm and paid it millions in the 1990s for lobbying efforts run by Abramoff, including work to counter allegations that Marianas clothing factory workers faced "sweatshop" conditions.
At Abramoff's urging, the island government played host to many congressional aides and lawmakers, including DeLay, who visited at Christmastime in 1997.
Hastings' office and the Marianas team Abramoff headed had at least three dozen contacts in 1996 and 1997, including at least two conversations between Abramoff and Hastings, according to firm invoices and correspondence the island government gave the Associated Press under an open records request.
That two-year period was a crucial one for Abramoff as he tried to show the Marianas that Preston Gates' six-figure monthly billings were worth the money.
Ed Cassidy, Hastings' chief of staff, said Hastings never talked to Abramoff, but his staffers spoke frequently with Preston Gates lobbyists because they came from a home-state firm and often represented clients from Hastings' district.
"Neither Chairman Hastings, nor I, or any member of our staff, has ever met, spoken to or traveled with Abramoff, or taken any action at his request," Cassidy said.
Local journalism is essential.
Give directly to The Spokesman-Review's Northwest Passages community forums series -- which helps to offset the costs of several reporter and editor positions at the newspaper -- by using the easy options below. Gifts processed in this system are not tax deductible, but are predominately used to help meet the local financial requirements needed to receive national matching-grant funds.
Subscribe now to get breaking news alerts in your email inbox
Get breaking news delivered to your inbox as it happens.
---