News > Spokane
Trip to links becomes game of big numbers
Thu., June 9, 2005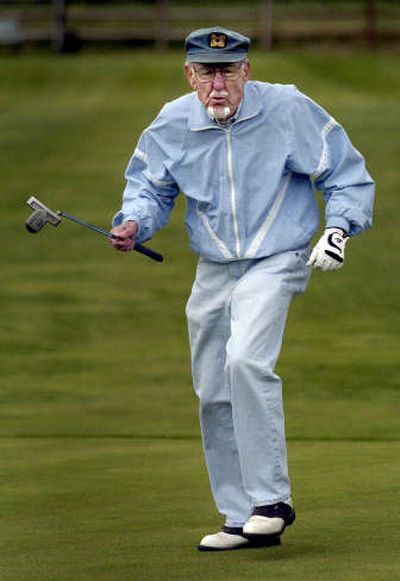 There's no telling what kind of lion of the links Gene Grossmann Jr. would have turned into had he not taken a break from golf – for 70 years.
As it is, this retired corporate lawyer with a gentle voice and a white goatee has enough game to whip my sorry behind any day of the week. Our match took place Wednesday morning at the Eagle Ridge Short Course in the Hangman Valley south of Spokane.
I'm actually stunned that I came within four strokes of Grossmann.
My golf game has more mood swings than a Mike Tyson press conference.
I don't actually strike the ball. It's more of a second-degree assault.
Grossmann, in contrast, has a butter-smooth swing and a deadly putting eye.
It's why he holds the official nine-hole record at Eagle Ridge, just west of Highway 195 on Meadow Lane Road.
Par for the tiny course is 27. Grossmann shot a 22 last October.
That 22 isn't the most amazing number connected to this man – not by a chip shot.
The number to note is 90. That's Grossmann's age.
"I was born Aug. 3, 1914," he says, cracking a grin before adding a punch line: "That's what started World War I."
Terry Kelly, an Eagle Ridge owner, set up our game. He was so impressed by this senior's dedication and age-defying skills that he thought a little publicity was due.
Happy to oblige, Terry.
Grossmann is an Eagle Ridge fixture. After each outing he enters all the statistical duffer data into his home computer. Wednesday was his 678th visit to the course.
This is one intense old dude.
Grossmann moved to Spokane in 1999 to be near his son, Gene Grossmann III. Grossmann the younger, a retired physician, talked his dad into picking up golf, thinking the activity would be beneficial.
Much to his delight "he got that swing back that he had as a kid," says the son.
The elder Grossmann grew up in Chicago. He took up golf at age 10 and says he gave it up when he was 16.
The Grossmanns are an inseparable golfing duo. Sonny boy, who is a mere 62, has developed a fine short game, too. Lately, he's been beating his dad, although not by much.
"It's just absolutely priceless," says Grossmann III of still being able to play with his father.
It's good to see people enjoying this infernal game.
I, too, played a lot of golf as a kid. Fortunately, I was able to kick the habit before incurring any lasting psychological harm.
I've finally figured out why golf is the most diabolical of recreational activities.
It's a matter of remorse.
Hear me out. In tennis, for example, a player can erase the sting of a horrible shot with a terrific one in the span of a second or two. Hit a lousy golf shot, and you've got at least five minutes to stew over it until the next opportunity for heartbreak rolls around.
Eventually, the weight of all that accumulated self-loathing snaps the human spirit like a taco chip.
Without the numbing support of beer, most golfers wouldn't be able to function.
And what sick sadistic soul came up with adding sand traps and water hazards to the golfing landscape?
Fact: In all my decades playing I've never lost a tennis ball in a pond.
I'm not complaining. I had a swell time getting beaten by both Grossmanns. We even had a few fascinating conversations, such as:
GROSSMANN JR. – (Pointing to the barn and fenced area at the end of a hole.) "We call this the Horse Barn Hole because they have a horse over there."
CLARK – "Oh."
GROSSMANN JR. – "There's also a llama."
CLARK – "Why didn't you call it the Llama Barn Hole?"
GROSSMANN JR. – "We saw the horse before we saw the llama."
Eagle Ridge has nine holes totaling only 719 yards. That makes it a perfect venue for golfers to confront their pitch and putt impotencies.
Once in every blue moon, however, all the planets align.
Getting that 22, for instance. Grossmann shot six birdies, two pars and one lone bogey on the last hole. One of the birdies came via a poke-and-pray shot 30 yards out from the green.
"I'd been playing so many times here," he says. "Some days you can get lucky all at once."
No doubt about it. Gene Grossmann Jr. experienced a true golfing miracle:
A remorse-free round.
Local journalism is essential.
Give directly to The Spokesman-Review's Northwest Passages community forums series -- which helps to offset the costs of several reporter and editor positions at the newspaper -- by using the easy options below. Gifts processed in this system are not tax deductible, but are predominately used to help meet the local financial requirements needed to receive national matching-grant funds.
Subscribe now to get breaking news alerts in your email inbox
Get breaking news delivered to your inbox as it happens.
---