News > Pacific NW
U.S. judge favors more water over dams
Thu., June 9, 2005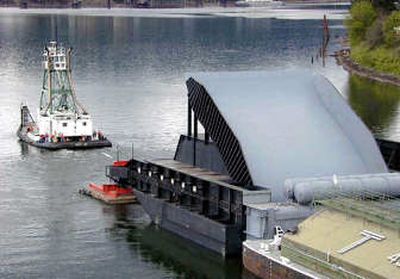 PORTLAND – A federal judge indicated Wednesday that he is leaning toward greatly increasing the amount of water spilled over four dams on the lower Snake and Columbia rivers to boost the survival of threatened and endangered salmon migrating to the ocean.
U.S. District Judge James Redden issued his preliminary finding in a statement filed with the U.S. District Court in Portland, just two days ahead of a scheduled hearing to determine how dam operations should be changed to help salmon survive in the wake of his rejection of the Bush administration approach.
Environmentalists, Indian tribes and sport and commercial fishing groups have argued that if the spill is not increased greatly, salmon protected by the Endangered Species Act could face extinction.
Government officials counter that the extra spill is unnecessary and will cost Northwest electricity customers up to $100 million in a drought year. When the water is spilled, it does not pass through the dam's turbines – helping young fish survive their migration to the ocean, but missing a chance to generate electricity.
"What this does show is that the court is still very concerned about being sure that salmon get the protection they need … It's good news for our Northwest way of life," said Todd True of Earthjustice, an environmental public interest law firm representing environmentalists and sport and commercial fishermen.
A lawsuit by environmentalists, Indian tribes, and fishermen resulted in a ruling that the Bush administration plan for operating Columbia Basin hydroelectric dams – known as a biological opinion – violated the Endangered Species Act.
Last month, Redden rejected the Bush administration's $6 billion plan to install special fish slides – known as removable spillway weirs – to improve the survival of young salmon passing over the dams, and other measures, such as habitat improvements. On Friday, Redden will hear arguments on how the dam operations should be changed now that the government's biological opinion has been struck down.
Redden indicated he is not likely to leave the 2004 biological opinion he rejected in place while it is fixed, but does not want to leave federal agencies liable for not having one, and wondered whether it is feasible to reinstitute a version from 2000.
Bob Lohn, Northwest regional administrator for NOAA Fisheries, said that increased spill is not necessarily the best thing for the fish. A combination of other methods intended to boost fish survival is a better approach, he said.
"We think that our plan already represents the actions that are in the best interest of fish," Lohn said. "The basic thesis is that you use a carefully balanced combination of fish passage techniques to get maximum survival."
Those techniques include increasing the velocity of the flow at certain times of the year, to ease the fish's passage, and using barges to transport fish around some of the dams.
True's group proposes increasing the spill at Lower Granite, Little Goose and Lower Monumental dams on the Snake River dams and McNary Dam on the Columbia. They also proposed a number of techniques intended to create a 10 percent increase in the speed of the rivers' flow.
While Redden indicated in his preliminary opinion that he favors increasing spill, he stated in the same document that he is opposed to increasing the velocity of the water by 10 percent. He suggested that the representatives of the opposing parties will need to come to some form of agreement on the issue.
Local journalism is essential.
Give directly to The Spokesman-Review's Northwest Passages community forums series -- which helps to offset the costs of several reporter and editor positions at the newspaper -- by using the easy options below. Gifts processed in this system are not tax deductible, but are predominately used to help meet the local financial requirements needed to receive national matching-grant funds.
Subscribe now to get breaking news alerts in your email inbox
Get breaking news delivered to your inbox as it happens.
---