News > Nation/World
U.S. trying to persuade some Iraqi insurgents to join political process
Thu., June 9, 2005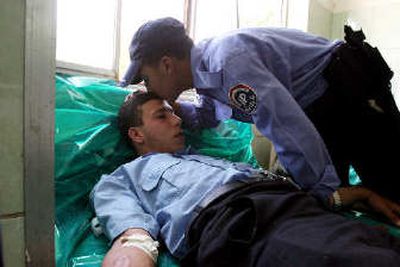 BAGHDAD, Iraq – U.S. officials are negotiating with Sunni Arab leaders to pull insurgents into Iraq's political process, a senior U.S. official said Wednesday. An American-Iraqi offensive, meanwhile, killed at least 10 militants, including four blown apart by their own car bomb.
The U.S. official's statement to reporters came after a Sunni Arab politician and a senior Shiite leader told the Associated Press they were holding talks with some groups in the insurgency, thought to include up to 20,000 fighters in their ranks.
"Some insurgents are irredeemable and have to be dealt with in a purely military way, and there are some who are looking to enter the political process under some conditions," the official told a Baghdad briefing, given on condition of anonymity.
At least 20 Iraqi army soldiers are feared kidnapped in western Iraq near the Syrian border, an Iraqi army official said Wednesday. They went missing Tuesday after leaving an Iraqi army base in two minibuses from Akashat, a remote village southwest of Qaim, said Capt. Ahmed Hamid.
Four U.S. soldiers died in separate attacks north of Baghdad, the military said Wednesday. One died in a roadside bombing Wednesday near Adwar. Two more died in a Tuesday attack on their Tikrit base, while a fourth was killed in a bomb attack just north of the capital.
At least 1,680 U.S. military members have died since the war began in 2003, according to an Associated Press count.
Fighters killed at least nine more Iraqis, including two government officials, in drive-by shootings and a car bomb as part of the ongoing bloodshed that has left almost 900 people dead in the six weeks since Iraq's new Shiite and Kurdish-dominated government was announced April 28.
Even as political efforts to unite Iraq appeared to gain steam, the president, Jalal Talabani, made comments that could anger Sunnis. He publicly praised Shiite and Kurdish militias, including the Shiite Badr Brigade that Sunni Arabs accuse of terrorizing and killing members of their once dominant community
And top Sunni leaders, sensing their crucial role in the future of Iraq's government, demanded a greater say in the drafting of the constitution and threatened to boycott the process if they didn't get it.
U.S. authorities have negotiated with key Sunni leaders, who are in turn talking with insurgents and trying to persuade them to lay down their arms, the senior U.S. official told reporters. The official did not name the Sunni leaders engaged in dialogue.
The official did not give his name so as not to undercut the new government's authority.
Sunnis form the backbone of Iraq's raging two-year insurgency.
The official suggested further measures to calm tensions, including absorbing existing militia groups like the Badr Brigade and the Kurdish Peshmerga into Iraq's own security forces.
At a conference marking the second anniversary of the Badr Brigade's claimed transformation to a political group, Talabani offered public praise.
"You and your (Kurdish) brothers are the heroes of liberating Iraq," he said. "You, my brothers, march on without paying attention to the enemies' claims because you and the (Kurdish militia) are faithful sons of this country."
Talabani's remarks came despite accusations by Sunni leaders that the militia – formed in 1982 to launch cross-border attacks from Iran against Saddam Hussein's forces – has killed members of the minority. The Sunni leaders have demanded it be disarmed and complained it provides intelligence and support for some Shiite-dominated special security units.
Sunni Arab criticism of Talabani's remarks was swift.
Abdul-Salam al-Qubeisi, spokesman of the influential Association of Muslim Scholars, said the president was following "U.S. policies to prolong the struggle in Iraq and turn it into an Iraq-Iraq conflict."
U.S. and Iraqi soldiers battled militants for a second consecutive day in the northern tip of Iraq, in the ancient city of Tal Afar about 90 miles east of the Syrian border, killing six militants in a gun battle. Another four militants died when a bomb in the car they were driving exploded prematurely.
Tal Afar has been an insurgent stronghold throughout the two-year insurgency, which began shortly after U.S.-led forces invaded Iraq to topple Saddam Hussein.
Sunni Arab leaders set themselves on a collision course with the Shiite-led government, threatening to boycott a committee drafting Iraq's constitution unless they are given more seats on the panel.
Sunni Arab support is crucial for Iraq's government, particularly to approve a new constitution. The draft charter will collapse if three of the country's four provinces that are predominantly Sunni Arab vote against it in a referendum later this year.
The Sunnis want 27 representatives instead of the 15 that the Shiites are willing to allow them, and they demand that their members appointed to the 55-member committee be allowed to vote even though they are not elected to the National Assembly.
Local journalism is essential.
Give directly to The Spokesman-Review's Northwest Passages community forums series -- which helps to offset the costs of several reporter and editor positions at the newspaper -- by using the easy options below. Gifts processed in this system are not tax deductible, but are predominately used to help meet the local financial requirements needed to receive national matching-grant funds.
Subscribe now to get breaking news alerts in your email inbox
Get breaking news delivered to your inbox as it happens.
---