News > Nation/World
Women score big in soccer
Thu., June 9, 2005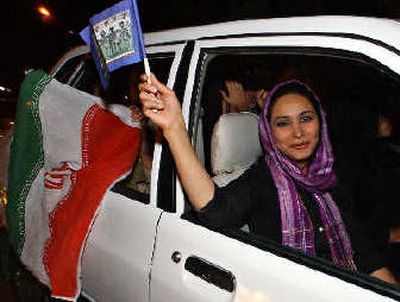 TEHRAN, Iran – One of the victories scored at Azadi Stadium Wednesday evening was Iran's soccer triumph over the island nation of Bahrain, an easy 1-0 win that guaranteed Iran a slot in next year's World Cup and set off dancing in the streets of the capital.
Another sort of victory came about 90 minutes before the game, when a crowd of female soccer fans pushed their way past guards posted outside the stadium. Defying a rule that has banned women from soccer matches for more than a quarter-century in the Islamic Republic of Iran, the young activists demanded seats in the sports complex that Iran's religious rulers named Azadi, or "freedom."
"We were just insisting on our rights," said Laila Maleki, one of the group of 26 young women. "We're part of no campaign."
Iranians go to the polls June 17 to elect a new president, and the impending electoral contest brought campaign posters, paper visors and thousands of fliers to the sporting contest, continuing a long link there between soccer and public affairs.
Iran's ruling clerics were dumbfounded by the spontaneous street celebrations nationwide when the national team qualified for the 1998 World Cup, and women joined men in celebrating to banned Western music blaring from car stereos. The party was even bigger – and more officially welcome – when Iran upset the United States during the tournament itself.
But the ban on women in the stands remained fixed, and the manner of its tentative lifting offered a window into how politics work in Iran.
Of the 100 or so women in the Special Grandstand on Wednesday night, most were invited by Iran's minister for sports, Mohsen Mehralizadeh, who is also one of the country's vice presidents. An advocate of equal participation for women as well as a presidential candidate, Mehralizadeh has in recent months arranged for women to attend national soccer games.
His approach has been gradualist, reflecting the pace of change brought about by President Mohammad Khatami, the reformist first elected in 1997 in a system in which appointed conservatives hold decisive power.
Local journalism is essential.
Give directly to The Spokesman-Review's Northwest Passages community forums series -- which helps to offset the costs of several reporter and editor positions at the newspaper -- by using the easy options below. Gifts processed in this system are not tax deductible, but are predominately used to help meet the local financial requirements needed to receive national matching-grant funds.
Subscribe now to get breaking news alerts in your email inbox
Get breaking news delivered to your inbox as it happens.
---