A&E > Entertainment
Listen to 7 Radio to discover the sounds of local bands
Fri., June 10, 2005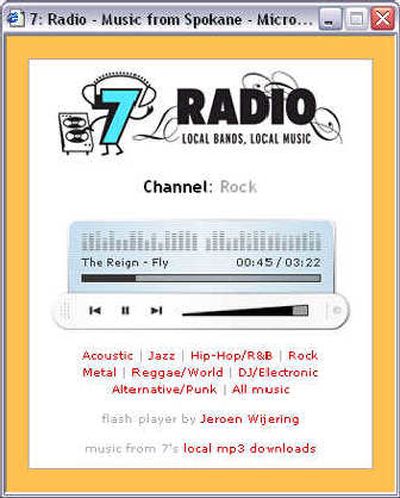 We've all had that moment with that band at that bar.
Maybe only six other people were there, but it didn't matter because you just found your new favorite group and, much to your surprise, it was in your hometown.
Some of the most amazing bands never get discovered. And some of them are from Spokane. We know because after a year of publication, we've collected more than 250 mp3s from nearly 100 local bands.
So we thought it was time to unleash our new online feature, 7 Radio. This online radio station streams songs from our mp3 catalog divided into eight channels – acoustic, jazz, hip-hop/R&B, rock, metal, reggae/world, DJ/electronic, alternative/punk. A ninth channel pulls randomly from all the genres.
It's something you can listen to at work or at home, and use as a reference for bands to check out live.
Launch the player from www.spokane7.com/music. Choose a genre from the pop-up window to listen to a random playlist. You can skip ahead or go back to your favorites.
And if you find something you like, you can download it from our mp3 library.
Local journalism is essential.
Give directly to The Spokesman-Review's Northwest Passages community forums series -- which helps to offset the costs of several reporter and editor positions at the newspaper -- by using the easy options below. Gifts processed in this system are not tax deductible, but are predominately used to help meet the local financial requirements needed to receive national matching-grant funds.
Subscribe to the Spokane7 email newsletter
Get the day's top entertainment headlines delivered to your inbox every morning.
---