News > Spokane
Anthropologist says coffin should be left at busy corner
Mon., June 13, 2005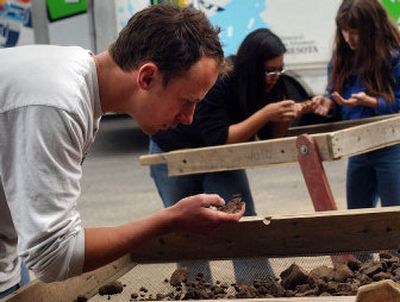 It's a case of honoring the words "Rest in Peace."
Sarah Keller, head of the department of geography and anthropology at Eastern Washington University, says there is no reason to remove the wooden coffin that EWU diggers found Friday underneath Division Street just north of Interstate 90.
"Why would we take it out?" Keller asked Sunday morning, standing beside the 3-foot-deep hole where the coffin remained buried. "The only thing that will be in that coffin would be a skeleton. There's going to be bones in the coffin, and I won't be able to determine whose they are."
Keller and police already have learned the coffin more than likely was buried in pioneer days.
Although there's no purpose in removing it, that hasn't stopped Keller and a handful of anthropologists and students from sifting through the dirt and debris.
"Until you do this, you don't know what you've got," Keller said.
Crews working on the Third Avenue construction project found four bones on June 3. The bones were not together. Keller, who was contacted by Spokane Police, identified two bones as human upper arms and two others as animal bones, possibly sheep bones cut by a metal saw.
One week later, EWU diggers discovered the coffin. They did not disturb it and called police.
Detective Sgt. Joe Peterson, who monitored Sunday's dig, said that by every indication, the finds are from an early settlement and there is no indication of foul play.
"Our (police) roles were lessened when it went from historical versus homicide," Peterson said.
Artifacts found have included square nails and bits of nails, china, glass and metals. Keller said Sunday morning she'd like to wrap up the dig that afternoon, then return to bury the bones and cover them with concrete.
"It's complicated by the fact that when they built the freeway, they brought in fill," Keller said. "I have no idea where the fill came from."
Clues such as the wooden casket and square nails led experts to believe the coffin is from pioneer times. Division Street, originally named Victoria, was built in the 1880s, local historian Tony Bamonte told The Spokesman-Review.
Peterson, with more than 20 years in law enforcement, said it is not unusual for people to find bones and contact police. However, this case took on deeper significance Friday.
"It was the first time we've run into a coffin," he said.
Local journalism is essential.
Give directly to The Spokesman-Review's Northwest Passages community forums series -- which helps to offset the costs of several reporter and editor positions at the newspaper -- by using the easy options below. Gifts processed in this system are not tax deductible, but are predominately used to help meet the local financial requirements needed to receive national matching-grant funds.
Subscribe now to get breaking news alerts in your email inbox
Get breaking news delivered to your inbox as it happens.
---