News > Nation/World
Bush's Africa policy sways some critics
Mon., June 13, 2005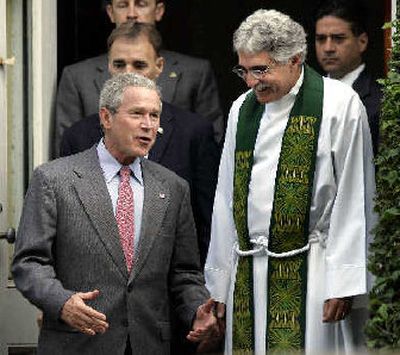 WASHINGTON – When he took office four years ago, President Bush vowed to make Africa a priority, a promise that some critics took as an attempt to make people forget his claim during the 2000 presidential campaign that Africa doesn't fit into the United States' national strategic interests.
Since then, Bush has won over some skeptics by pledging $15 billion to battle HIV and AIDS in Africa, tripling development aid to the sub-Saharan region to $3.2 billion, creating the Millennium Challenge initiative to provide money to countries anywhere in the world that practice good governance and sound economic policies, and by brokering a peace agreement between Sudan's government and southern rebels that ended a 21-year civil war.
"He's done better than former President Clinton, who gave us a lot in terms of style but the dollars weren't there," said Melvin Foote, executive director for the Constituency for Africa, a group that fosters greater ties between American and African organizations.
Bush will once again showcase his African agenda today when he meets with the presidents of Botswana, Mozambique, Namibia and Niger at the White House to discuss democracy, free trade, HIV/AIDS and economic development and security on the continent.
But while some Africa experts like Foote, a Democrat, praise Bush's work on the continent, others remain unconvinced. They say the president has promised a lot and delivered little, given the magnitude of the problems that afflict African nations.
He has come up billions of dollars short in promised funding for his Millennium Challenge program, and only one African country, Madagascar, has qualified for aid. The other recipient, Honduras, is in Central America.
Worse, critics contend, Bush hasn't moved aggressively to help stem atrocities in Sudan's Darfur region despite having called the situation there genocide against black non-Arabs by Arab militias known as the janjaweed.
White House officials call such assertions nonsense.
Bush's focus on Africa comes at a time when the continent has become an international concern, prompted by a seemingly endless wave of humanitarian crises, worries that massive poverty will make the continent the next recruiting station for terrorists, and fears about the spread of HIV and AIDS. The virus and disease have already spread to 25 million Africans.
British Prime Minister Tony Blair sees increased African aid and debt relief as the solutions for Africa's problems and made them part of the platform for his successful re-election campaign.
Blair will host next month's Group of Eight Summit in Scotland and intends to make Africa the focal point of the two-day meeting.
Local journalism is essential.
Give directly to The Spokesman-Review's Northwest Passages community forums series -- which helps to offset the costs of several reporter and editor positions at the newspaper -- by using the easy options below. Gifts processed in this system are not tax deductible, but are predominately used to help meet the local financial requirements needed to receive national matching-grant funds.
Subscribe now to get breaking news alerts in your email inbox
Get breaking news delivered to your inbox as it happens.
---