News > Features
Daddy Day coupons offer edible treats
Mon., June 13, 2005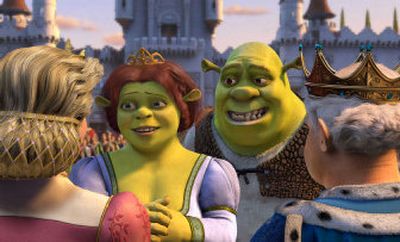 Father's Day is Sunday and here's a great idea from Parents magazine for edible Daddy Day coupons. Start with a package of sandwich cookies (oblong-shaped), cover one side with icing (see recipe below), and use edible food markers to write messages such as Good for One Kiss, Hug or Cuddle. The best part is when he wants to use a coupon, you get to eat it.
Icing: Beat together ½ box (16 oz.) confectioners' sugar; one tablespoon powdered egg whites; four tablespoons of water with a mixer on low speed until combined. Increase speed to high and beat for four minutes. Thin icing with 1 tablespoon of water until it has the consistency of heavy cream and spread it over the tops of cookies with your finger.
•A swimsuit drive is under way to benefit children in need. New swimsuits and swim diapers are being accepted at NorthTown Mall and Spokane Valley Mall at the customer service centers from 10 a.m. to 9 p.m., Monday-Saturday, and 11 a.m. to 5 p.m. on Sunday, through June 20. Some public pools require those who attend to wear proper swimwear while visiting the pools.
The swimsuits will be available for pickup after Wednesday on a first-come, first serve basis at the following locations: East Central Community Center, 500 S. Stone St.; Northeast Community Center, 4001 N. Cook St.; West Central Community Center, 1603 N. Belt St.; Spokane Valley YMCA, 2421 N.
Discovery Place; and Spokane Valley Community Center, 10814 E. Broadway Ave. For more information, call 482-0209 or 926-5575.
•KPBX Kids' Concert features Milonga! A Latin Dance Band, on Friday at Riverfront Park's Clocktower Meadow. Discover the many dialects of Latin music at this free concert thanks to Spokane Cardiology, Windermere Real Estate, and Whiz Kids/Children's Corner Bookshop. During the concert, kids can make arts projects with Mobius, the new combination of the Children's Museum and the future planned Science Center. The hour-long concert begins at noon.
•Tony Hawk's Boom Boom HuckJam, action sports stunts on skates, BMX bikes and Moto X freestyle riders, will perform Friday at 7 p.m. at the Spokane Arena. Tickets range from $25 to $75 and are available through TicketsWest at 325-SEAT.
•The Lipizzaner Stallions World Tour presented by White Stallion Productions, will be in Spokane Saturday at 7 p.m. and Sunday at 2 p.m. at the Spokane Arena. There will be 14 stallions on this tour to showcase dressage, the famous equine ballet, and the famed "airs above the ground." Tickets are available through TicketsWest and range from $19.50 to $24.50.
•Now that school is almost out, what a better way to kick off the summer than with a free movie during the 14th annual Free Family Film Festival, sponsored by Regal Entertainment Group, Animal Planet and Kellogg's Apple Jacks.
Beginning June 21, each Tuesday and Wednesday at 10 a.m. there are two movies to choose from at the Spokane Valley Mall Cinemas. Next week will be "Chicken Run" (Rated G) and "Shrek 2" (Rated PG). Both movies are shown on each day so you won't miss out on the fun. The following week will be "Jonah: A Veggie Tale" (Rated G) and "Are We There Yet?" (Rated PG).
•Sign Language for Kids, for ages 6-11, and sponsored by Spokane Parks and Recreation, will be held on Wednesdays beginning June 22 from 2 to 3:30 p.m. at Eastern Washington Center for the Deaf and Hard of Hearing, 1206 N. Howard St. Students will learn basic sign and communication tips during this eight-week series. Cost is $49. Call 625-6200 for more information.
Local journalism is essential.
Give directly to The Spokesman-Review's Northwest Passages community forums series -- which helps to offset the costs of several reporter and editor positions at the newspaper -- by using the easy options below. Gifts processed in this system are not tax deductible, but are predominately used to help meet the local financial requirements needed to receive national matching-grant funds.
Subscribe now to get breaking news alerts in your email inbox
Get breaking news delivered to your inbox as it happens.
---